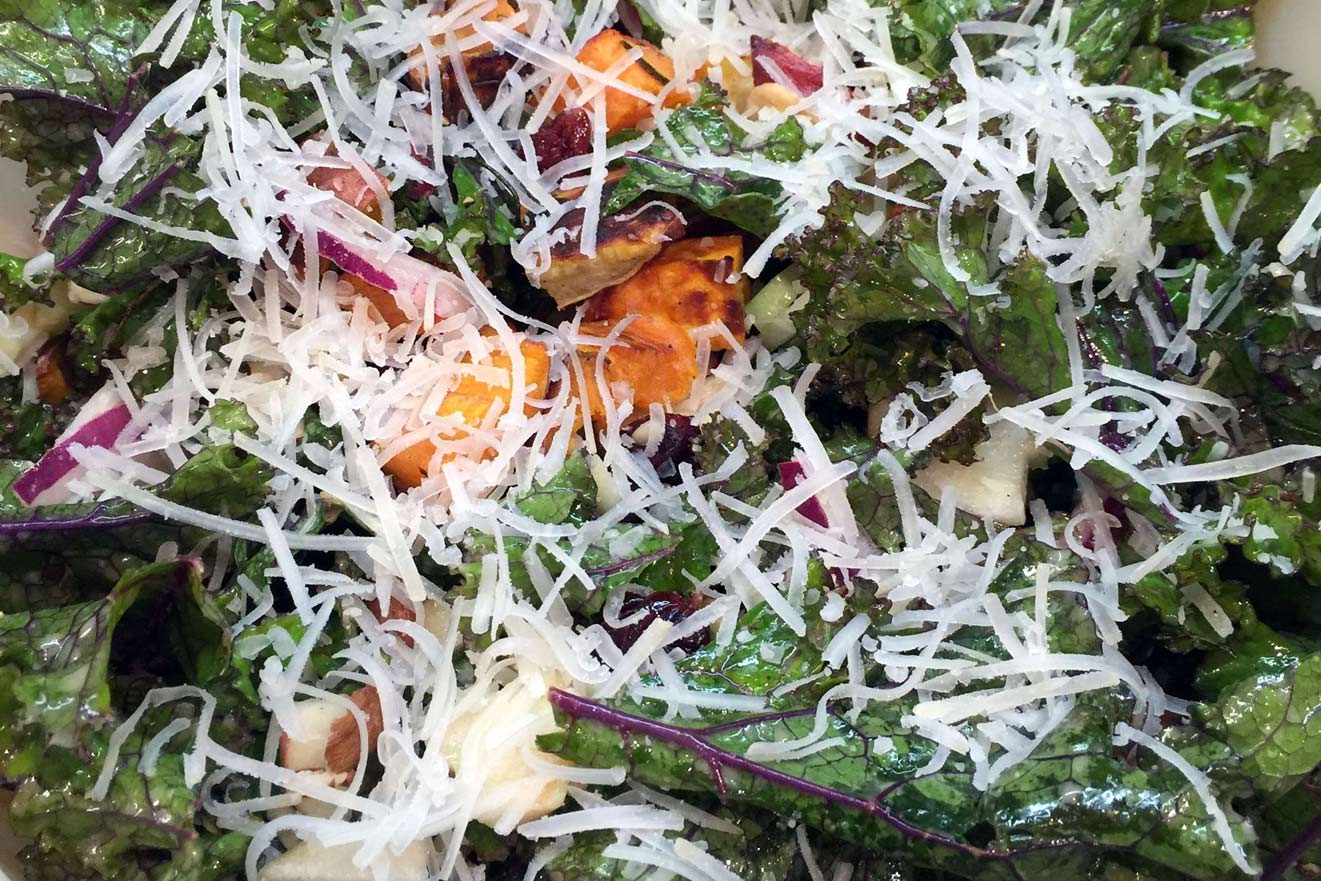 02 Sep 2015

Kale + Sweet Potatoes + Apples = YUM!

This is hands-down my favorite salad of the moment. And with apple season firmly underway in North Carolina, I'm going to keep putting this on the table throughout the fall. Honeycrisps are my favorite type of apple. They're firm, sweet, and tangy with a crisp bite that can't be beat in my book. Combine honeycrisps with sweet potatoes and give them a base of kale dressed with a mustardy vinaigrette and I'm in heaven.

I got this recipe from my mother-in-law, Karen, who always goes out of her way to find yummy recipes that suit her gluten-free, dairy-free, sugar-free daughter-in-law. And she found it here. I've made a few modifications to it that I'll share. I know there's been controversy about kale lately, but I'm still eating it. Sweet potatoes also have a variety of benefits: good source of vitamin C, D and magnesium to start and root veggies are solid nutritional support for those with low-back issues.

The Ingredients

Base:

2 – 3 Sweet Potatoes (2 lbs) cut into 3/4″ cubes (I like to use a variety: Garnet, Japanese, and Purple – all organic)

1 – 2 Bunches of Kale (depending on how much kale you want – it does reduce in the dressing – and which type you use: 1 bunch of Red Kale will be enough but you'll need 2 bunches of Lacinto)

1 – 2 Honeycrisp Apples (again… how much apple do you want? and are they little or the big honkers you find in the conventional section of the grocery store)

Thinly sliced Red Onion (not in the original Real Simple recipe, but a necessary addition for my taste)

Dressing:

4 T Olive Oil

3 T Lemon Juice (freshly squeezed)

2 T Dijon Mustard

Salt & Pepper

Toppings:

Sliced Almonds

Dried Cranberries

4 oz Naked Goat cheese

The Steps

Preheat your oven to 400°, cube up your sweet potatoes and toss them with 2 T of olive oil, salt and pepper and your favorite assortment of fresh herbs. For me, roasted sweet potatoes require rosemary, thyme and oregano. Toss them on a rimmed baking sheet and give them plenty of space. If you crowd your potatoes, they won't get crispy. Roast them, tossing once halfway through, for 18 to 20 minutes. Let them cool before adding to the salad.

In your large salad bowl, whisk the lemon juice, olive oil, mustard, salt & pepper together to emulsify.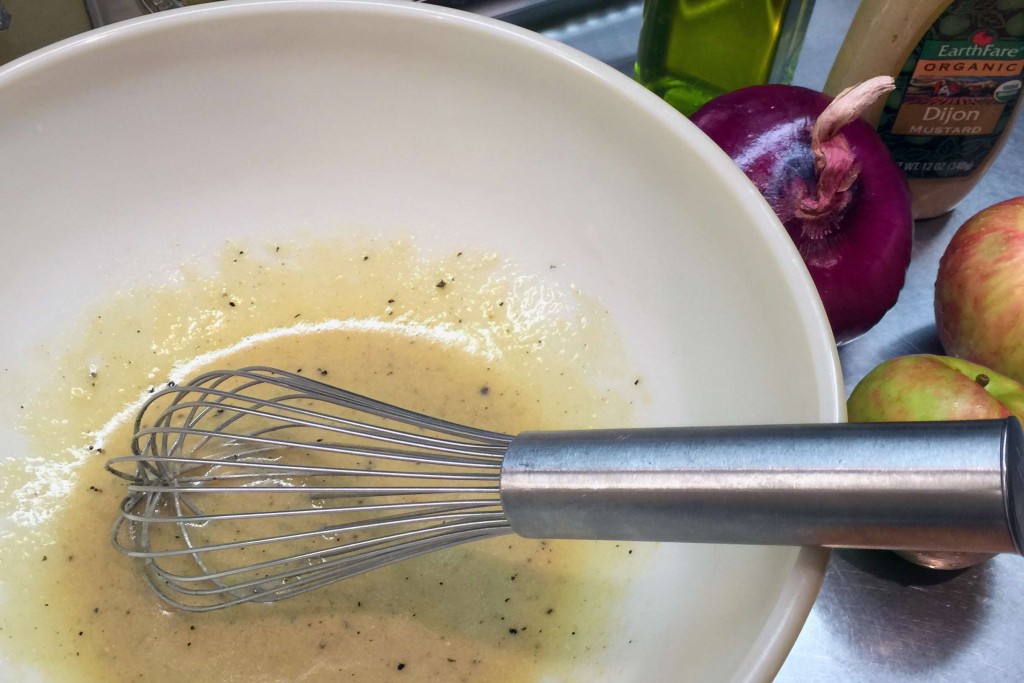 Remove the thick stems from the kale and tear into bite-sized pieces (I find it easier to wash once it's torn and then I lightly towel-dry). Add the kale to the salad bowl and toss it with your hands, massaging the dressing into the leaves so they get tender and completely coated with this yummy, mustardy dressing.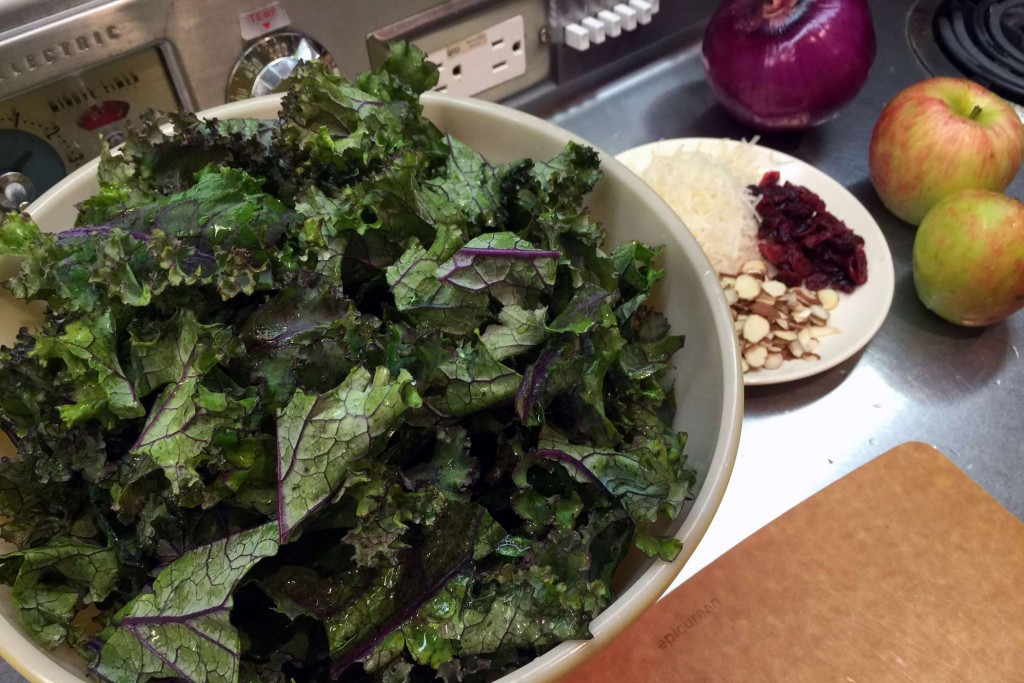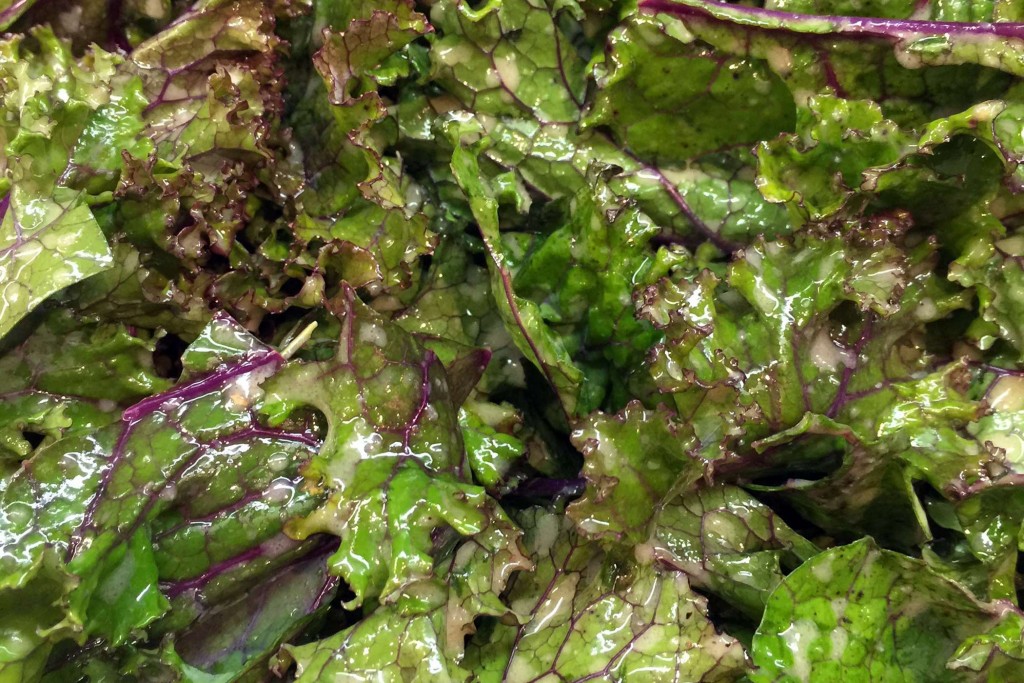 I like to slice the honeycrisps thinly and then into 1/2″ wide rectangles but use your judgment. Cut the shape you want that you think will combine with the other ingredients best. That's the true skill of salad-making: knife-work. Cut everything so that it is harmonious and you can put together a single, perfect bite that capture a variety of ingredients in one forkfull.
Add the potatoes, apples, red onion, cranberries and almonds. Toss well and top with Naked Goat cheese. 'Hey!' you might be thinking, 'I thought you said you were dairy-free!' Well, I do eat goat cheese (no sheep, no cow), and Naked Goat is the perfect shaved parmesan substitute I've found.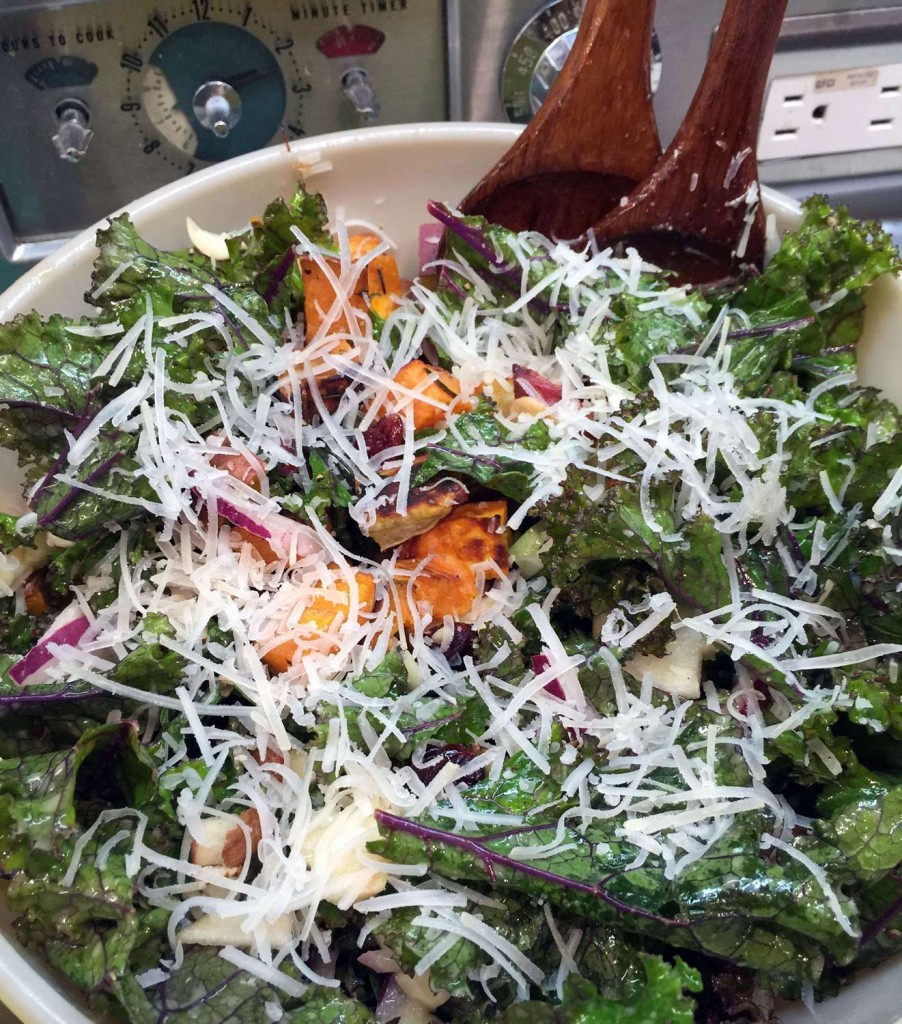 Try it yourself! I personally think this is a hearty enough salad to stand as an main dish but it pairs well with chicken sausages too.  It also keeps well and can be made ahead of time easily for your next potluck gathering. Let me know what you think in the comments…