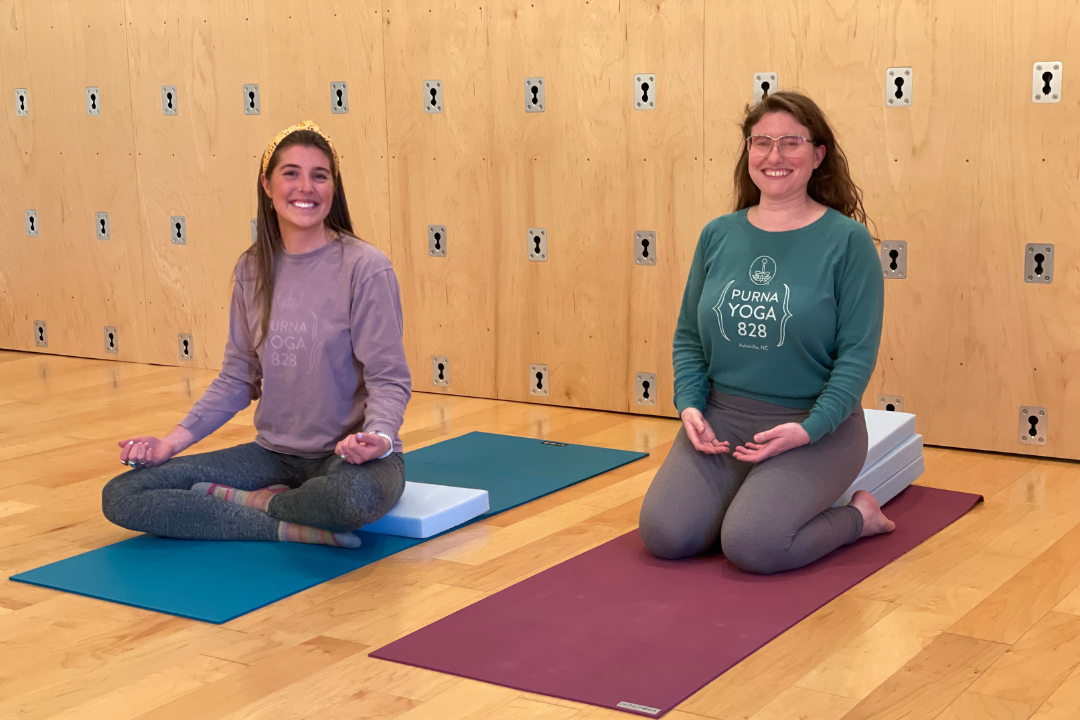 14 Feb 2023

Mar 8th: Start Yoga Now Beginners' Series
Start Yoga Now, a 6-week Series for Absolute Beginners

In-studio class, team-taught by Hannah Berlin & Hannah Dosa
Wednesdays at 6:15-7:30 pm, Mar. 8th through Apr. 12th
$78 or $145 for two students signing up together
Would you like to…
Gain more strength & flexibility while alleviating pain?
Learn how to manage stress more effectively?
Learn more about yourself (physically and mentally) through the lens of the science of yoga?

Then, Start Yoga Now with Hannah Berlin & Hannah Dosa!
This 6-week course is designed for the total beginner. If you've been thinking about practicing yoga and want to develop a movement practice that is more than just exercise, this is your invitation to dive in and start yoga now. Each 75-min class covers the basics to give students the confidence and knowledge to join any of our all-level classes. 
Students explore a variety of poses and series, from standing to supine, twists, forward bends and backbends, and even beginning inversions. You'll gain more strength and flexibility while alleviating pain, and learn how to manage stress more effectively with simple breathing practices and Heartfull® Meditation techniques. 
And because sometimes doing new things by yourself can be intimidating, we've got a special offer for two who sign up together. For any two folks who want to come to class together (friends, spouses, siblings, partners) we've got a special deal of two for $145. If you'd like to sign up for yourself and another student, simply purchase the Start Yoga Now for 2 pass and then send us an email with the name of the other student and we'll take care of registration for them.
This series is the chance to build a deeper connection with yourself while also learning the essential series and movements of Purna Yoga, along with the basic yoga lingo, some vital anatomical information, and how to work with props.
Hannah Berlin (RYT 500) has been practicing yoga since 2013 and teaching since 2017. As someone who was burnt out and skeptical of exercise programs, Hannah found that the practice of yoga contained so much depth, knowledge, and wisdom on how to care for her body, mind, and spirit. Hannah found passion and purpose in teaching students practices that help them connect with their bodies. She is warm, considerate, and involved. Her students can sense her genuine care for each person through her careful guidance and joyful smile.
Hannah Dosa (RYT 200) understands that for beginners, it's often difficult to build consistency in your yoga practice. Her advice to new students? "It can take a lot of courage to try anything for the first time, or to do something that's outside of your comfort zone. The hardest part is always showing up! Most folks come to yoga class, not to prove anything, but to feel a sense of connection and peace of mind that's hard to find anywhere else." Teaching since 2020, her goal as an instructor is to create a safe, welcoming space in which her students can explore their bodies, minds and emotions with curiosity and compassion, so that they may experience the benefits of yoga, both on and off the mat.
This is an in-person class and is limited to 12 participants. Masks are optional in the studio, and students are welcome to wear masks if they choose. 
This series is for absolute beginners as well as anyone who wants to cultivate a beginner's mind. We will move at a beginner's pace, with no yogi left behind.