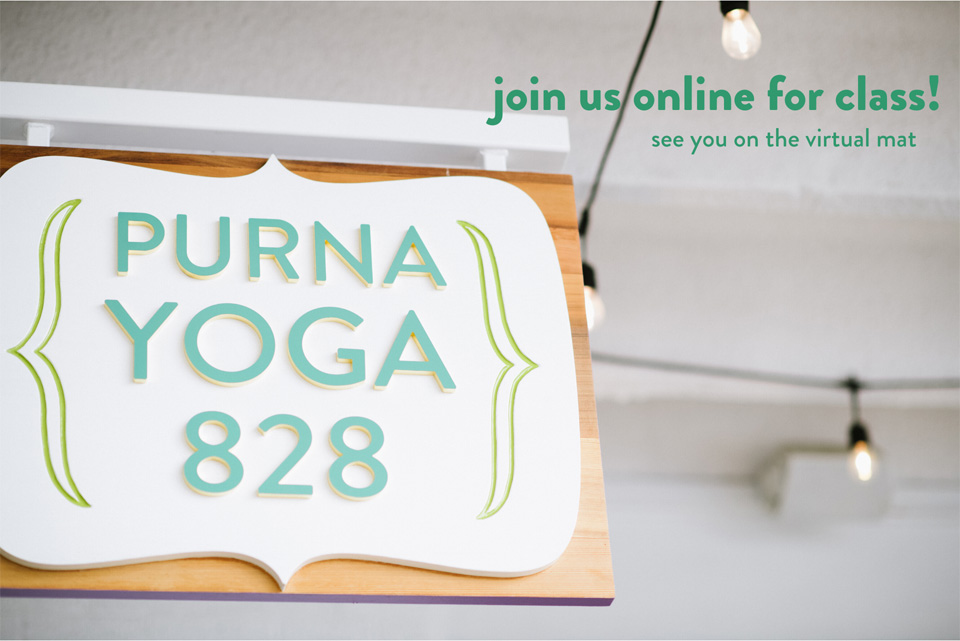 17 Mar

Virtual Classes are on!
While the studio is closed, we are now offering online classes, so we can stay connected, keep practicing, and focus on gratitude, joy, and love.
We're so happy to share Purna Yoga and Heartfull Meditation during this challenging, piviotal, serious time. 
Please check out our online calendar for the most up-to-date schedule. Currently, we are offering 2 classes a day, 6 days a week:
Monday through Thursday: classes at 10 am and 6 pm. Some are 60 minutes; some are 90, ranging from Level I, I/II, & II.
Friday: one 60-minute class at 10 am (Level II) and a 60-minute restorative class at Noon.
Saturday: one 75-minute class at 10 am. 
We are offering these classes on a sliding scale payment system. You may pay a drop-in donation rate ranging from $1 to $25, use existing class credits, purchase an online 10-class pass (6 month expiration date) for $130 or get an unlimited online pass (30 day expiration) for $200. Starting March 31st, we will also have a recording of the class available for 48 hours for any registrants who can't make the class due to time constraints or technical errors.
HOW TO SIGN UP FOR ONLINE CLASSES
There are three steps for joining us online:

• log in to Tula through our online calendar
PLEASE DO THIS STEP FIRST! You can't join class without being logged in.

• sign up & pay for class

• click on VIEW BROADCAST to enter the Zoom waiting room (download the Zoom app first)
If you have any questions about how to log in to Tula, check out this blog post.
I've never been happier to be a Tula customer. They have gone above and beyond to help all of us get online classes up and going. Nevertheless, there is currently a bug in the system, especially for Google Chrome users. If you are seeing "Log In/Create Account" in the upper-right corner of your calendar, but when you sign in, you see the phrase "you are already logged in," then your browser – and most likely your Mac – are a little buggy.
FIRST, go to our online calendar.  Then, sign in to your Tula account using the LOG IN/CREATE ACCOUNT link in the upper right corner of our calendar.
SECOND, click SIGN UP under the online class you're looking to join.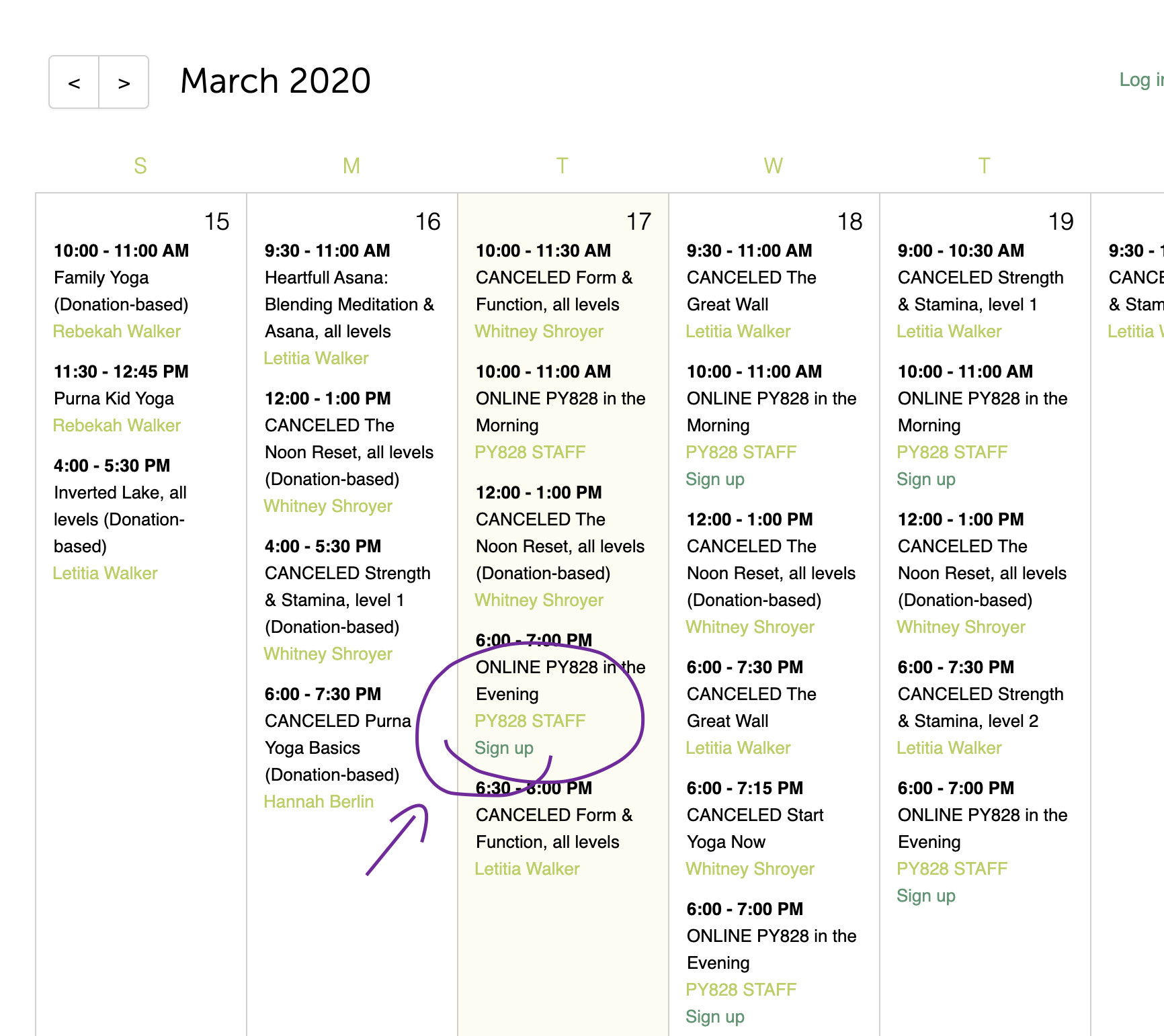 THIRD, go back to the online calendar and you will now see a link marked VIEW BROADCAST. If you aren't logged in, you WON'T see the link. Click on this link to enter the Zoom waiting room.

If for any reason, you lose the connection, simply go back to the View Broadcast link to rejoin the meeting.
IT'S OUR GIFT TO YOU UNTIL MARCH 31ST…
As a service to our community both local and not-so-local, we are offering these classes free of charge while we get the production and process values at the level we would like. This is a learning curve for us all! Thank you for your patience. Many of you, though, have asked how you can donate. There are several ways you can do this. You can go to the Location and Pricing section of our website and simply choose to purchase a single class or even a 10-class pass to use when we reopen or when we shift to a payment system for online classes. Just click on the green prices to make your purchase.

You also could send us a donation through Venmo. Our venmo address is letitia@purnayoga828.com and our venmo id is Letitia-Walker-3.
Please feel free to enjoy these free classes. This is purely information for those who have asked how they can support us in this interesting time.