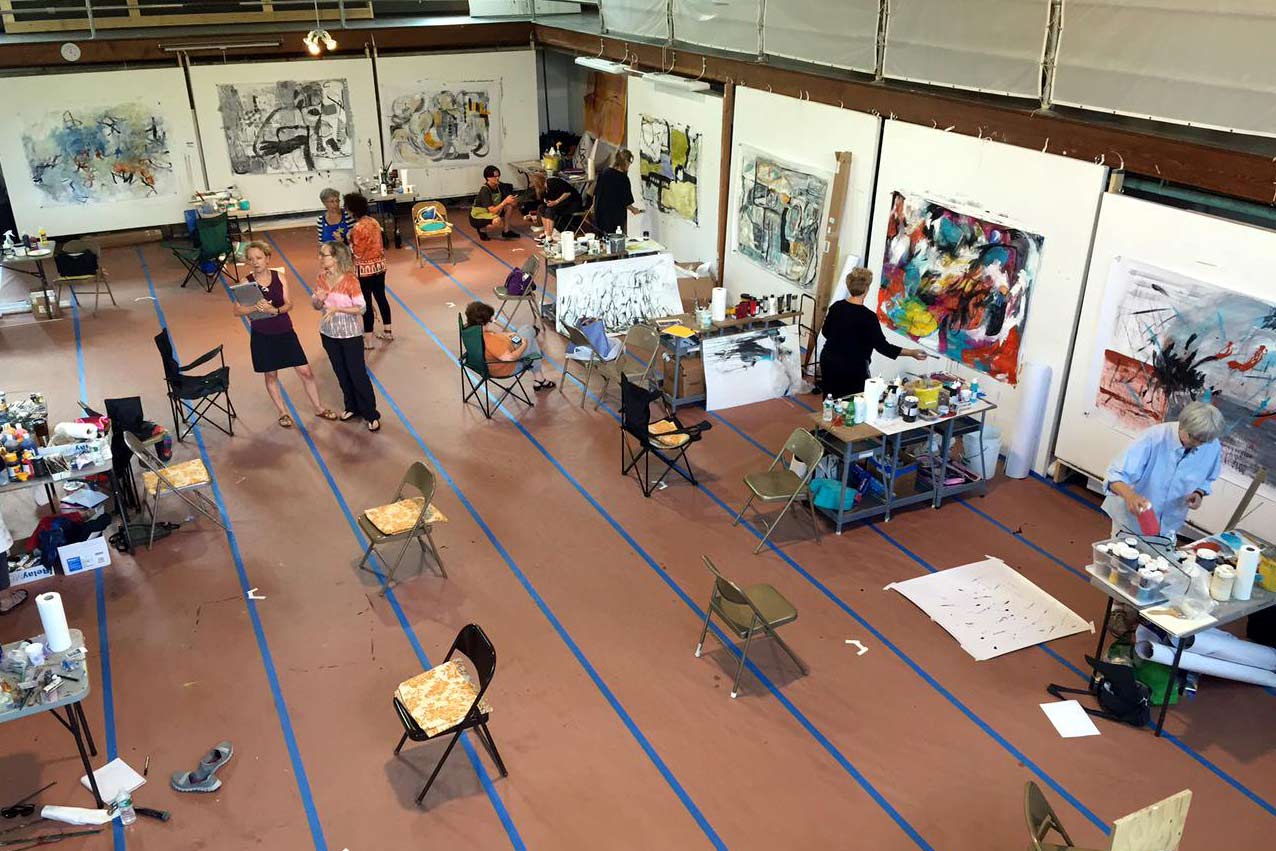 09 May

July 26 – 30: Abstract Artist's Retreat
DOING THE WORK OF YOUR LIFE
Katherine Aimone (Abstract Painter, Writer), Nancy Hillis (Abstract Painter, Psychiatrist), Letitia Walker (Purna Yoga Instructor)
Limited to 14 participants
Thomaston Academy; Thomaston, Maine
July 26-30, 2016 (Five full days, 8:30 a.m- 5:00 p.m.)
Tuition: $875
Some of you may remember the abstract artist's retreat that I was involved in last August in Maine.  That intensive was so magical, and so much fun, that we are doing it three times this year: twice in Asheville and once in Maine.
In this collaborative, holistic workshop, we explore ways to embrace doubts and move into full creativity in abstract painting. We provide you with guided painting exercises to deepen your exploration of unknown territory in your work, including informal journaling and automatic drawing as you work.
In the morning, you will take part in yoga and meditation designed for artists, creating an environment of support in which we can all talk openly about our work together. You are guided to embrace vulnerabilities, excitement, and discoveries with a group of like-minded artists.
By coming back to the body and centering yourself, you gain access to practices that bring mindfulness to your work each and every day. Tethered by this practice, you can explore anything in your painting—such as dealing with the critical voice that comes up as well as the distractions of life.
This quest takes place in a beautiful, light-filled studio environment that nourishes both body and soul. You come away armed with tools to create authentic work borne of insights about yourself as well as practices to guide you as you develop your most authentic and truly personal work.
Katherine Aimone is a painter who has spent her life working in the arts as a museum curator/director as well as a writer. She holds an MA in art history and a BA in painting. She and Steven Aimone have built the business of Aimone Art Services together for over 16 years, and she writes essays for artists through her company ArtsWrite. She authored many books as a writer and editor for Lark Books. Over a year ago, she set out to teach a painting workshop combining yoga and creative work, because she had found a profound connection between the centering practices of yoga and overcoming her own fears and doubts in her work. The first Doing the Work of Your Life workshop organized by her and taught in August of 2015 was lead by Katherine, Nancy Hillis, Audrey Phillips, and Letitia Walker. (www.katherineaimone.com, www.artswrite.com)
Nancy Hillis, MD is an existential psychiatrist and abstract painter. As a physician, Nancy studied radiology at Harvard University and completed her psychiatry residency at Stanford University. Her life-long interest and deep studies about creativity spurred her to produce a television program in California called Creativity and Consciousness during which she interviewed various artists. She has taught experimental painting at Stanford Sierra Camp since 2011. Nancy's passion is creating a space for spontaneity, risk taking, allowing, and accessing the intelligence of the body. She has exhibited in solo and group shows in California, New Mexico, and Hawaii. She is currently writing a book with the working title: Create the Artistic Breakthrough You Want: Secrets from the Masters. (www.NancyHillis.com)
Letitia Walker is an Affiliate Purna Yoga Instructor and is registered with Yoga Alliance. She has been practicing yoga since 1998 and teaching since 2004. She focuses on the whole person—body, mind, emotions, and spirit. Yoga sessions will incorporate basic asana (poses), pranayama (breath work), and meditation techniques that support the painting. Letitia's techniques are accessible for everyone, even absolute beginners. Through opening physical channels, you will unlock the energetic channel of self-expression: the path from the heart to the hands.
Hear what participants are saying about this workshop:
The DWOL workshop was a life-changing event for me, far exceeding my expectations, which were high to begin with! Letitia began our mornings with yoga and guided meditation that set us up for the work of the day. Her insight gave us an experience designed for our needs as individuals and artists. The teachers created an atmosphere conducive to sharing, acceptance, safety, and experimentation. Students came with widely varied experience in both painting and yoga, from none at all to years of practice; together we painted, did yoga, meditated, and shared our stories. Guided exercises encouraged us to paint from our bodies and our hearts, without fear of criticism or shame. Under wise leadership, we painted large, and with joy and abandon!  
—Jane Kenyon, Vancouver, BC
This workshop was an artistic shape-shifting experience. I felt not just permission but encouragement to identify, explore, and break through self-imposed limitations. The focus on self-reflection through journaling and movement, along with individual and group exercises, and dedicated time to paint, provided a fertile environment for change. This was a rich four days and will forever impact my painting….  
—Carol McNamee; Lancaster, PA
I am so thankful for the DWOL workshop. I must admit that I had some trepidation about beginning each day with yoga, and I couldn't quite understand how this would feed our creativity, but it absolutely did! Letitia tailored it specifically to art and artists, and I felt both relaxed and energized by the practice. Next, I was concerned about doing painting exercises instead of getting right into the work. Mistaken again. The exercises that the teachers devised loosened us up and created an intimacy among the participants that was priceless. And, of course, the individual critiques by the instructors in the afternoons were very insightful and helpful. It seemed that, in offering suggestions, each workshop participant's individual style was honored. I look forward to the next DWOL workshop! 
—Elizabeth Schwartz, Ann Arbor, MI
Go and learn to paint the work of your life. Trust that if you are serious about your work, you can use this opportunity to grow through explorative teaching and your interactions with the instructors and other artists.  
—Melinda Hoffman, Greenville, SC