13 Jul 2023

Mar 3-10, 2024: Purna Yoga Spring Immersion in Spain
Purna Yoga Spring Immersion in Spain with Letitia Walker & Mariken Fliervoet

March 3rd – 10th, 2024 at Centro Santillan in Spain
Join us for our first international retreat!
Reconnect and Go Within with Letitia Walker & Mariken Fliervoet
Spend a week practicing Purna Yoga at Centro Santillan in the Andalucia region of Spain! Mariken and Letitia invite you to rest, reflect, and re-imagine the first steps toward a transformational shift for the Spring of 2024.
WANT TO JOIN US?
Letitia has been dreaming of hosting a yoga retreat at Centro Santillan since 2018! When she and Mariken Fliervoet – whom she met during her 2,000-Hour training – went on a retreat together in Italy in 2019, they started talking about how they could host retreats together in beautiful locations, collaborating as fellow Purna Yoga instructors while adding in Mariken's background in acupuncture and energy work. The initial plan was to do something in the Fall of 2020 or the Spring of 2021, but those plans got postponed.
Now, it is time! Join us for our first international Purna Yoga retreat! Experience Yoga as a practice of nurturing feelings of inner beauty and harmony that supports living your dharma without drama. Go deeper by retreating in a beautiful location, nourished by delicious food, and with the company of a small group of practitioners seeking positive change. Discover and explore daily practices to bring the deep relaxation and rejuvenation that you'll experience on this retreat back into your daily life, supporting re-entry into home life with ease, grace, and calm.
Let's explore the beauty of the Andalusia region of Spain and the inner beauty of our hearts together!
COST
Early Bird (Deposit by Aug. 30th)
Single room $1,800
Shared room (with either twins or a double bed) $1,500 per person
Full rate (After Aug. 30th)
Single room $2,050
Shared room (with either twins or a double bed) $1,750 per person
Santillán has 20 individually-designed bedrooms, each with its own bathroom and private balcony or garden terrace facing the sea, tropical gardens, and surrounding hills.
Accommodations, food, and yoga included. We are also including transportation to and from the airport to Centro Santillan. You are responsible for the cost of your flight and any additional excursions or treatments, as well as procuring travel insurance.
Reserve your spot with a deposit of $300 by August 30th to receive the Early Bird rate.
For our European students, if you would rather pay in euros, please contact Mariken Fliervoet. Euro payments must be sent via bank transfer.
PAYMENT PLANS
We offer three payment options:
$300 deposit + remaining balance due Sept. 15th 

$300 deposit + remaining balance in 2 equal payments due Sept. 15th/Dec 1st 

$300 deposit + 4 payments due Sept 1st, Oct. 1st, Nov. 1st, Dec 1st
RESERVE YOUR ROOM!
GENERAL DAILY PROGRAM
8-8:45 am: Meditation & Pranayama
9-10:30 am: Asana Class
10:30 am: Breakfast
11:30-5 pm FREE for massage, excursions, meridian therapy, rest (Lunch at 2 pm)
5-6:30 pm: Asana Class
7 pm: Dinner
8:30 pm: Taking the practice deeper with Meditation & Philosophy
Check in to Centro Santillan on Sunday March 3 from 3:30-5:00 pm and check out on Sunday March 10 at 10 am.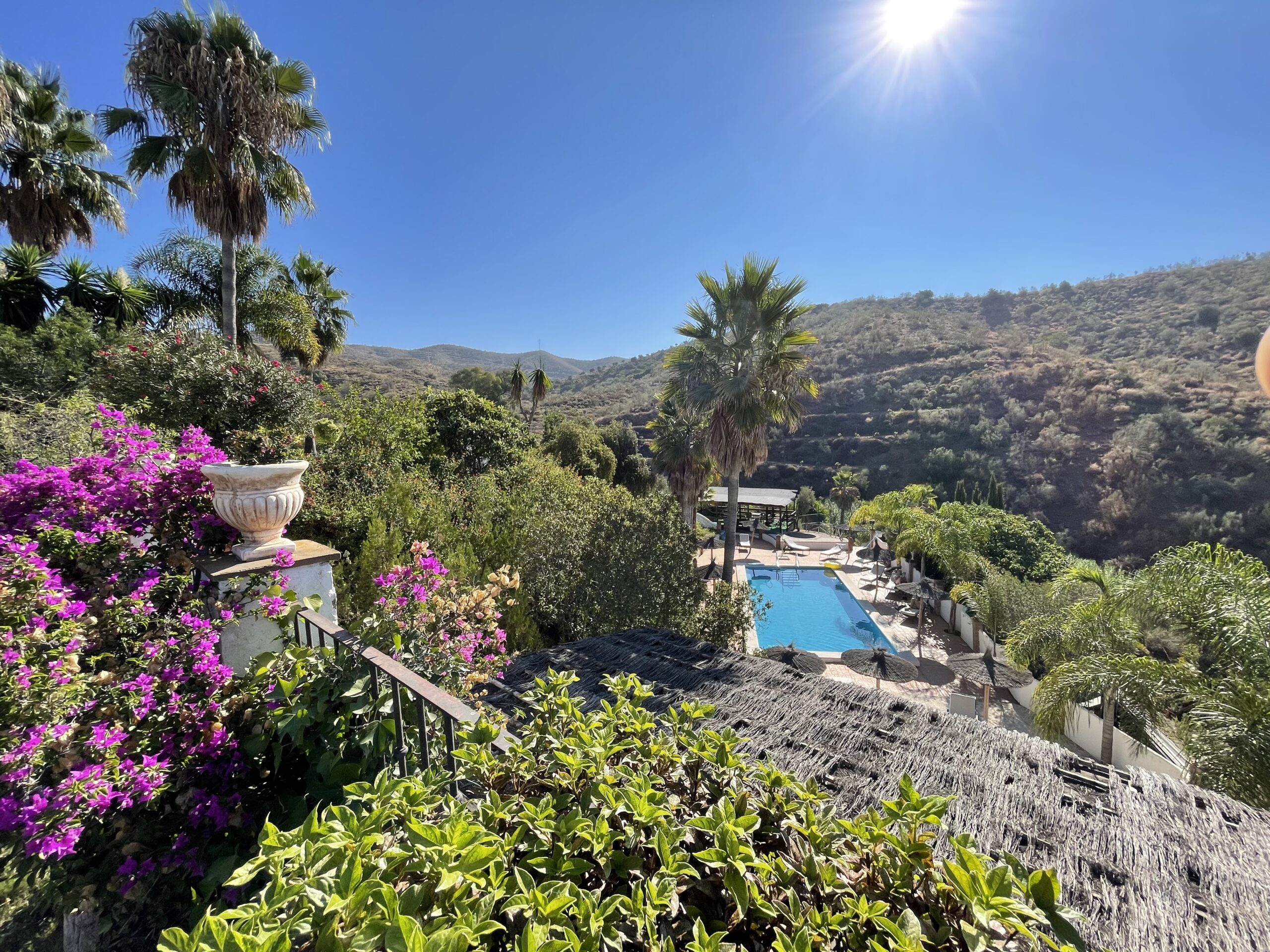 MORE ABOUT CENTRO SANTILLAN
Only 35 minutes from Malaga airport, Santillan is an extensive countryside olive cortijo with magnificent gardens overlooking the Mediterranean sea. Surrounded by hills and valleys, you are immersed in peaceful tropical gardens and surrounding hills. Santillan has one outdoor and two indoor studios, a salt-water pool, and 20 en-suite bedrooms. Explore capivating Andalusia, with enchanting cities like Malaga, Seville, Cordoba, and Granada within reach as well as beautiful beaches
ACCOMMODATIONS
Every room is ensuite with either a balcony or terrace with views down the valley to the sea or to the tropical gardens. Each room is individually furnished and has a desk, ample cupboard space, a separate bathroom, air-conditioning and heating.
CUISINE
The cooks at Santillan Retreat enjoy sharing their popular Spanish-influenced healthy Mediterranean cuisine, catering for vegetarian, vegan and raw-food diets, and for genuine food allergies and intolerances, such as gluten-free and dairy-free. Santillan offers breakfast, lunch and dinner, as well as tea and light snacks. Meals are usually served buffet style. Santillan offers numerous indoor and outdoor all-year round dining areas.
Produce is grown in their own organic vegetable gardens or sourced from local farmers. Avocado, orange, lemon, mango, apple, mandarin and tropical fruit trees offer their gifts for much of the year, and they keep free-range chickens for fresh eggs daily. Pick your own oranges for your morning juice, or explore the farm and horticulture anytime.
YOGA SPACES
Santillán's three spacious studios are fully equipped with a complete range of professional yoga teaching and practice props. The golden aura designed Carlo Classic studio looks down the valley to the sea, and has a 24-station Great Yoga Wall, wooden floor, wood-pellet burning stove, infra-red panels, and an extensive collection of yoga props. Studio Andaluz is a large traditional Andalucian salón with two wood-burning fireplaces making for cozy winter restoratives, and thick stone walls for a cool space in the hottest of summers. Overlooking the pine garden and on to the sea, Studio Andaluz is a very peaceful studio and has been used for meditation retreats for many years. The new outdoor Garden Sala is an outdoor covered sala with views all around to gardens, the valley & hills and on to the sea. Recently built in the same style at the Patio Andaluz, this glorious and versatile space, with variable-coloured lighting and access to yoga props, can be used for outdoor classes and shaded relaxation.
SIGN ME UP!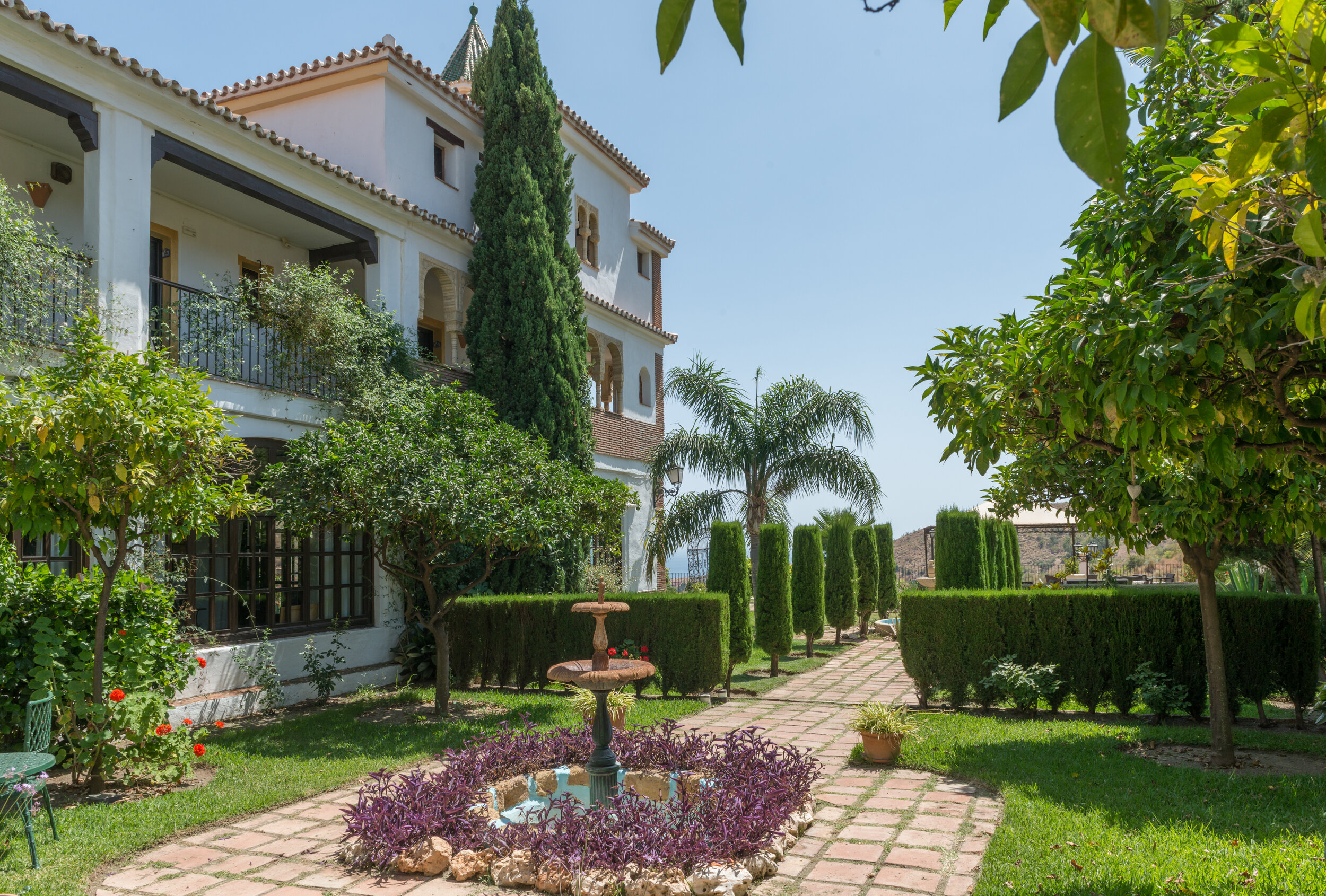 RETREAT POLICIES
Attendance
To attend, you must:
Submit your room request through

this google form

. Room requests will NOT be accepted through any other form of communication

Submit a non-refundable, non-transferable deposit of $300/€300

Agree to pay the purchase price as listed either in one payment or through a payment plan
Early Bird Rates & Payment Plans
Your deposit is your first payment towards the final cost of the retreat. Your deposit must be received by 8/30/23 to qualify for the Early Bird Rate.

We offer three payment options:




$300 deposit + remaining balance due Sept. 15th




$300 deposit + remaining balance in 2 equal payments due Sept. 15th/Dec 1st




$300 deposit + 4 payments due Sept 1st, Oct. 1st, Nov. 1st, Dec 1st 

We will contact you one week before your payment schedule due dates in case you need to update or change the card used for payment.
Travel Insurance
All attendees are responsible for purchasing Trip Insurance.

You are responsible for any loss, penalties, fees, or other financial consequences relating to trip or travel cancellation or interruption, theft or loss of belongings, and all health coverage abroad.

We do not offer refunds for trip, travel or medical issues that arise before or during a Yoga Retreat.
Cancellation Policy
If you wish to cancel, you must notify us by email. 

Cancellation notice must occur before December 1st in order to receive a refund.

Your $300 deposit is non-refundable. 

Any payments made can only be refunded if you find someone to take your spot.

If your cancellation notice comes after Dec 1st, you forfeit any payments made.

There are no discounts for late arrivals, early departures, or guests who choose not partake in meals or yoga activities

If we have to cancel the retreat for any reason, we will refund all payments.