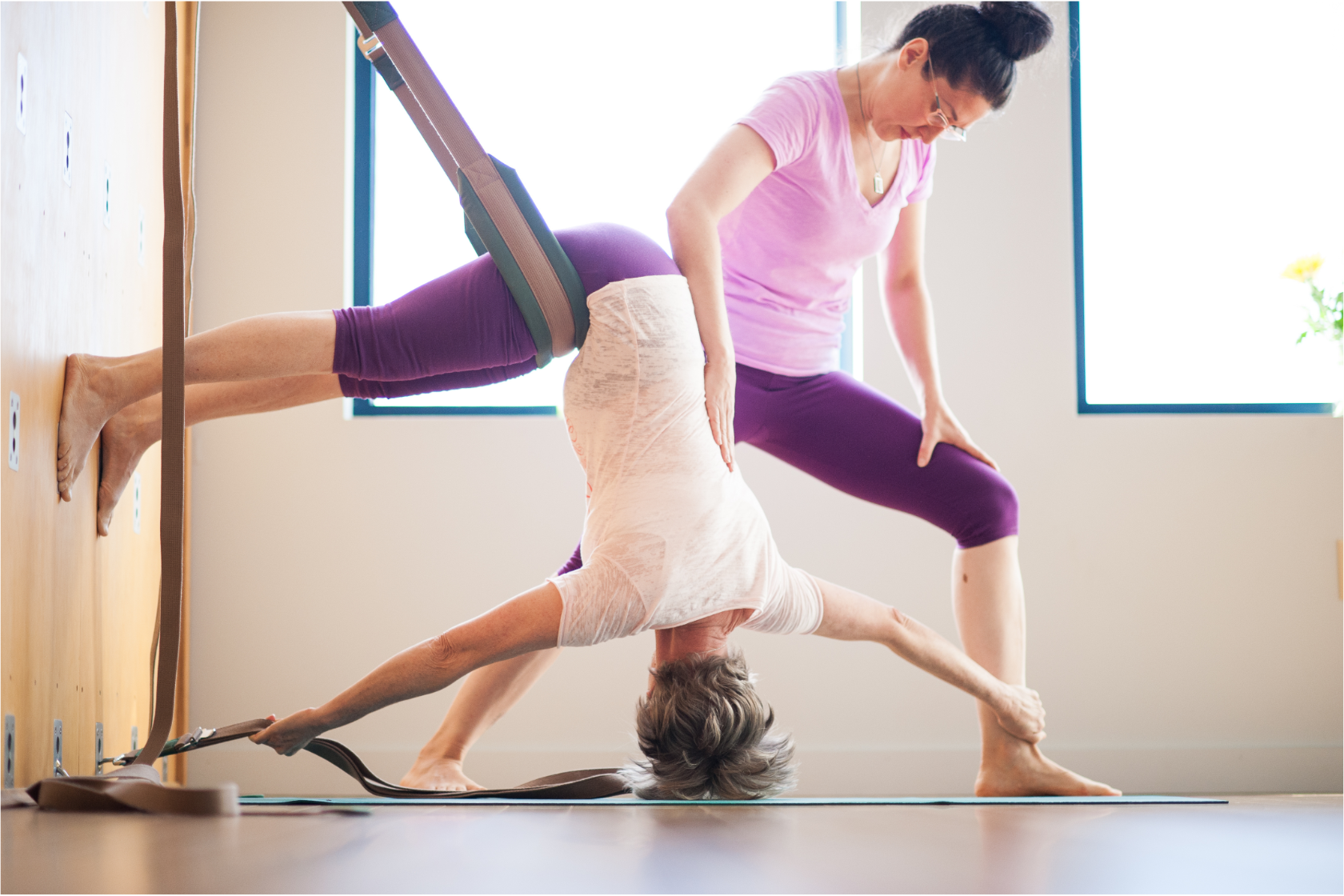 08 Mar 2023

Apr 1st: Great Yoga Wall Spinal Rejuvenation Immersion
Great Yoga Wall™ Spinal Rejuvenation Immersion with Letitia Walker

April 1st, 2023 at Purna Yoga 828
Two Sessions: 9 am – 12 pm EDT & 1:30 pm – 4:30 pm EDT
Join us in-person or online for this all-day immersion!
12 in-studio spaces available • Access recordings until May 1st
$175 ($158 for PY828 Members)
Spend the day experiencing how The Great Yoga Wall can support spinal health by:
alleviating tension in the muscles around the spine,

releasing pressure on the vertebral discs,

freeing up space for the nervous system

with Aadil Palkhivala's Spinal Rejuvenation Series and other therapeutic applications. You might even leave an inch taller!
Join us in-studio or online.  A home Great Wall system required for online participation. Live attendance is not necessary but recommended. This immersion will incorporate partner work. We also will be practicing inversions which might be contraindicated for certain conditions.
Since the beginning of yoga, it has been understood that the human body is constantly under the stress of gravity. Compression of the spine, the joints, and the nervous system, leads to pain, loss of mobility, and aging of the body. The effects of gravity can be reversed, though, by using traction to create space and alignment in the body.
In this two-session immersion, Letitia – directly trained by Aadil Palkhivala – will guide you through an experience of creating more space in the body through traction with The Great Yoga Wall. While her Level One and Two Wall trainings focus on helping teachers and home practitioners hone their understanding and skill in using this amazing prop, this is an opportunity to explore, discover, and feel the effects of The Great Yoga Wall for spinal health. This immersion is for anyone who wants to feel how the Great Wall works its magic, not just for teachers looking to expand their skill-set in working with clients or students. The cornerstone for this immersion will by the Spinal Rejuvenation Series.
The Spinal Rejuvenation Series was created by Purna Yoga co-founder, Aadil Palkhivala, to help his own severe lower back problems, including disc injuries and bone spurs. Just like his famous Hip Opening Series, it provides all possible movements to your spine while your spine is in a state of suspended traction. This frees up the tension in all the small and large postural muscles that surround your spine, while simultaneously reversing the ravages of gravity. It releases pressure on your vertebral discs, increases blood flow and allows your nerves to regenerate. This series reverses the aging process of your spine. When your spine is youthful all the muscles and organs in your body will function better. You will feel refreshed, energized, and more flexible after doing this series.
Nothing feels more freeing or supportive for my back than a weekly practice of the Spinal Rejuvenation Series. It also leaves me feeling energized but calm. – Online Student from Germany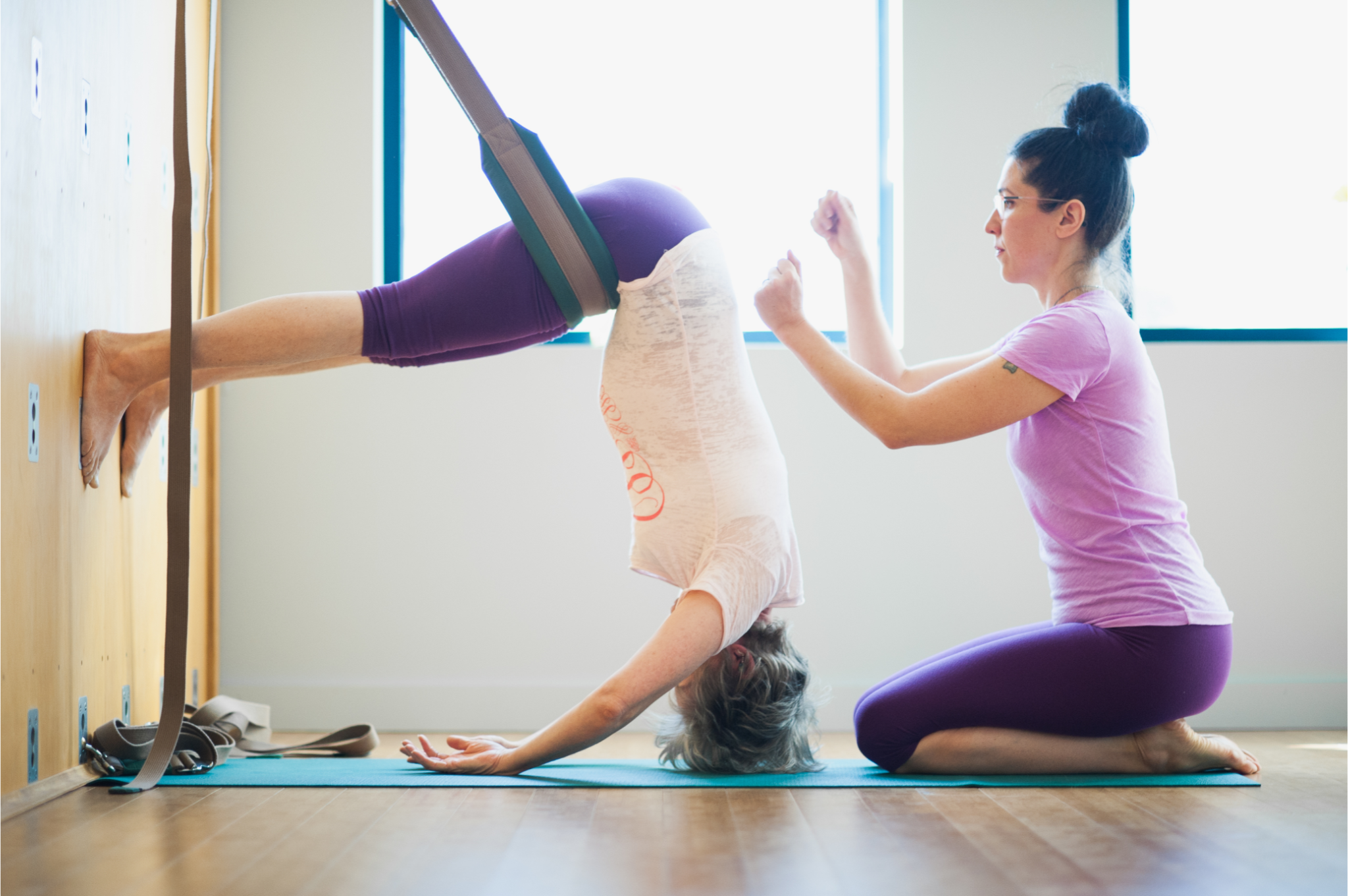 The series is done while hanging in traction, and therefore is not suitable for those who have high blood pressure, a seizure condition, a history of stroke, a heart condition, glaucoma, acid reflux, or hiatal hernia. If you fall into any of those categories, please avoid this class.
The following props are recommended. For at home participants, to get the most out of this experience, it would be helpful to have the following. We'll have all of this for students to use at the studio.
at least two wall belts, ideally four

a sling

a yoga strap

blocks and a blanket

In-person attendees are capped at 12 to allow adequate space for all. Masks are optional but encouraged in the studio. Live attendance is not necessary for online participants. All students will receive the class recording and have access to that recording until May 1st.  There will be a designated demo model for online participants to be able to view.
The majority of this immersion is done in partner-style, with the partner providing another point of stability or traction. In-studio students will work together in pairs of their own choosing, ones chosen by Letitia, or with a teaching assistant. Online participants will benefit the most from having a partner to work with in their home studio.
It is most ideal to attend both sessions of this immersion in order, as the morning session will be preparatory for the afternoon. An online student with time-zone conflicts can attend the second session live without having attended the first session if they are experienced with inversions on the Wall. It is not possible to purchase only one session.
Experience the wonder of The Great Yoga Wall and leave this immersion feeling more alive, refreshed, nourished, and taller!