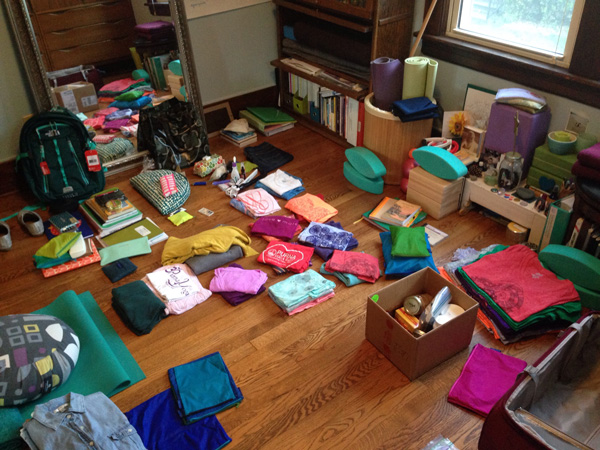 06 Oct 2014

packing up… getting ready to go…

On Saturday morning, I finished packing my bags, got my house in order, taught a super-fun & productive class to my devoted Saturday Morning Yoga Sangha students, and then hopped in the car and headed to the airport. Destination: Alive & Shine Center in Bellevue, Washington for my first, ever Therapeutic Training with Aadil Palkhivala and Savitri!

For me, packing is another form of practice, an opportunity to bring union and order, just like asana can do for the body. I get the chance to demonstrate respect and stewardship by packing just what I need, in an orderly fashion. Putting pieces together in a suitcase is like building a pose from the foundation up, and the end result can be just as artful as a beautifully realized pose.

This trip marks the maiden voyage of my new North Face backpack! My sister came to visit me this summer carrying this beautiful and uber-functional backpack. I've been wanting a backpack for a while, something more shoulder-friendly than my usual carry-ons, but, until now, I hadn't found one that wasn't black. The Surge II Transit backpack is where it's at: great shoulder straps, lovely balance, lots of pockets and cozy nooks for all my stuff, and the color is divine. This is my new carry-on.
Now, I'm settled in Bellevue. Everything is unpacked, groceries are bought, dinner has been made, and I'm set to study some anatomy in preparation for the first day of training tomorrow. My bedside table has "Purna Yogi" written all over it: fresh flowers, some reading material (Iyengar's Tree of Yoga, this month's book club read at One Center, as well as Sri Aurobindo's Thoughts & Glimpses and The Trail Guide to the Body), and of course, my main travel companions: yoga strap and sacral brick.
Thank you to everyone who makes my sojourns to Seattle possible: my students, my fellow teachers, my friends, my family and most importantly my husband, who holds down the fort while I'm gone.