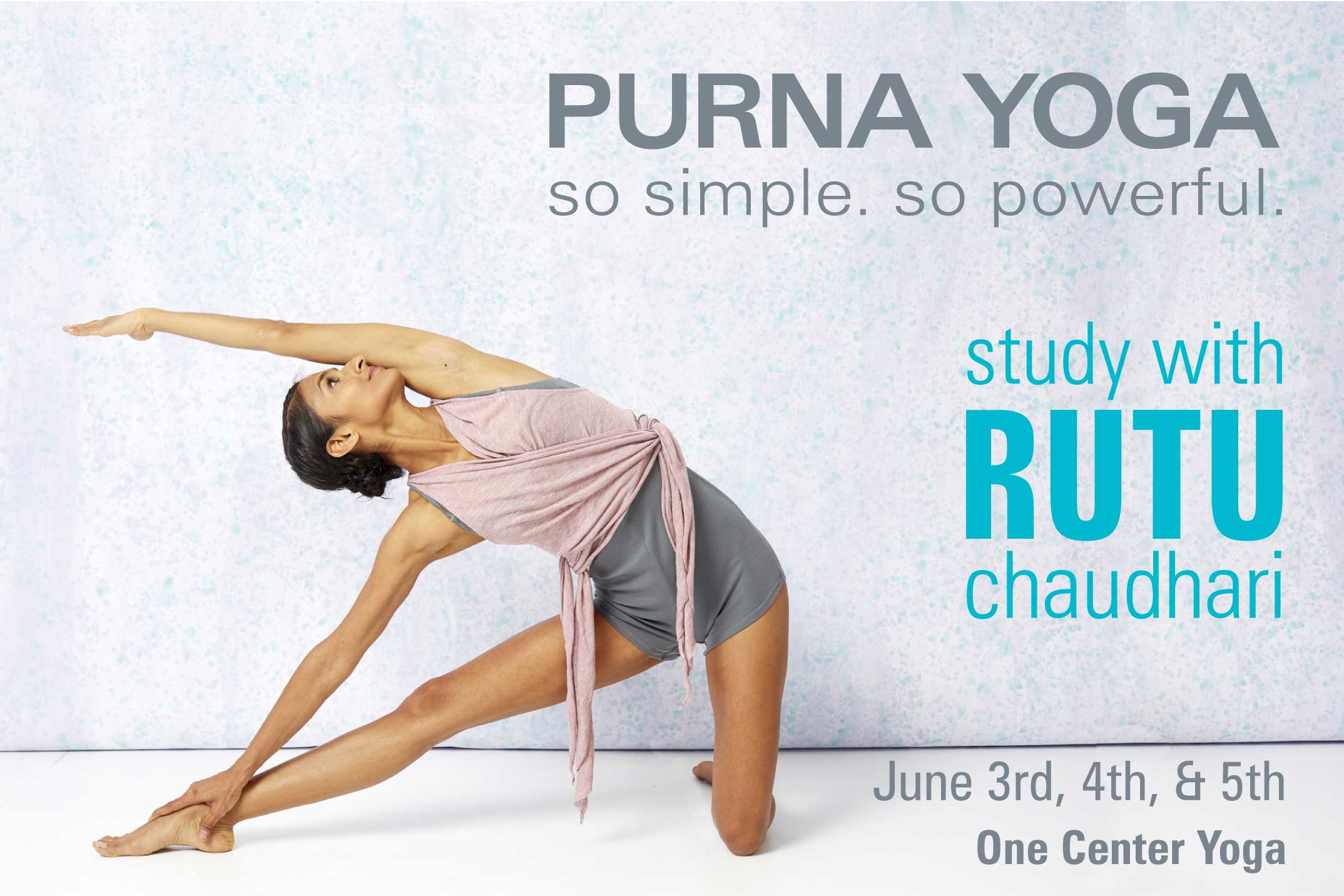 09 May 2016

June 3-5: Purna Weekend with Rutu Chaudhari
Purna Yoga Weekend Workshop with Rutu Chaudhari

June 3rd, 4th, & 5th, 2016  •  One Center Yoga
Early-Bird Rate: $195  •  After May 27: $225
Purna Yoga: so simple. so powerful. Simple things, done intensely. This is the essence of Purna Yoga, an alignment-based practice that serves the whole person-body, mind, emotions and spirit.
Get a taste of all aspects of Purna Yoga (Asana, Nutrition & Lifestyle choices, Applied Philosophy, & Meditation) during this weekend workshop with Atlanta-based, certified Purna Yoga Instructor, Rutu Chaudhari. Find new ways to deepen your connection to your body and soul.
The weekend is recommended for all yoga students, except absolute beginners.
Story of the Eye (Friday 5:30 – 8:30 pm)
The Eye is the best artist. By the mutual action of its structure and of the laws of light, perspective is produced… and as the eye is the best composer, so light is the first of painters.  There is no object so foul that intense light will not make it beautiful.
—Ralph Waldo Emerson
Come learn what it means to do yoga for the eyes. To care for them and support their optimal functioning. When practiced with consistency, these techniques improve vision and reverse aging of the eyes.
DIY Asana Detox (Saturday 9 am – 12 pm)
You must keep the temple clean if you wish to install in it the living presence.
—The Mother
We detox our bodies because we respect our bodies.
Detox with yoga. Experience an invigorating sequence that you can do daily to churn, squeeze, and flush the gook from your internal organs. This practice will leave you cleansed and refreshed.
Heartfull Meditation (Saturday 2 – 4 pm)
About five years into my yoga practice, I was ready to begin a meditation practice. I was introduced to Purna Yoga and Savitri, the founder of Heartfull Meditation. To say the very least, it was a game changer for me. My yoga practice changed, and more importantly, my life improved and still continues to improve. The focus of this meditation is not to still the mind, but to align the disparate inner voices  of the mental and the vital with your heart center: the voice of truth and wisdom. Heartfull Meditation is a practice of transformation, and is essential to Purna Yoga.
Purna Yoga Power Hour (Sunday 10:30 -11:30 am)
Move, flow, and stretch the Purna Yoga way with this one hour vinyasa sequence. Connect with the breath while practicing with purpose. Limit 20 students.
Meet the King and Queen: Inversions in Purna Yoga (Sunday 12 – 3 pm)
Together, Shirshasana (headstand) and Sarvangasana (shoulder stand) create the balance of yin and yang in the body; a balance of feminine and masculine energy. Inversions are the greatest boon in the yoga practice. They are the most beneficial of all asana and also the most injurious when practiced without care and understanding. Learn the anatomy, alignment, and energetics of Shirshasana and Sarvangasana.
Pricing: $195 by May 27; $225 thereafter. Individual sessions are available if space permits; priority is given to students signed up for entire workshop.