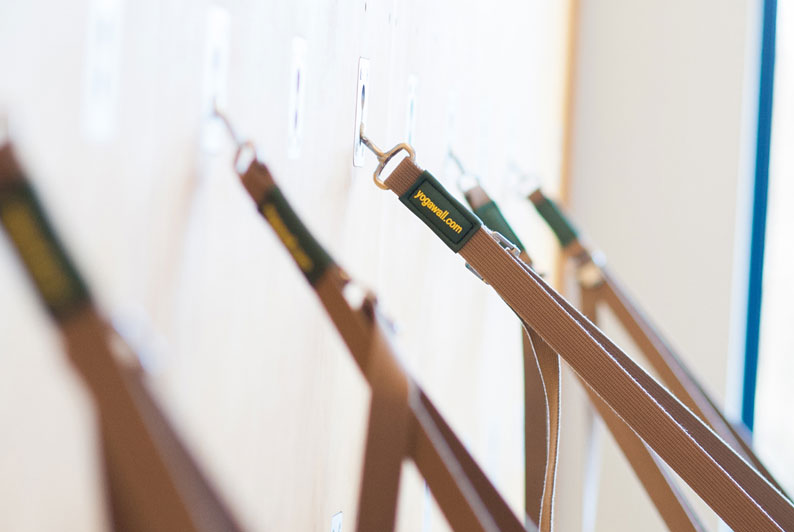 03 Nov 2023

Yoga Wall Classes, Trainings, and Immersions

At Purna Yoga 828, we offer Great Yoga Wall classes, trainings, and immersions. Students can attend in-person at our studio in Asheville, NC, or online from anywhere in the world – as long as you have access to a yoga wall, the Great Yoga Wall's over-the-door system, or the ability to "create" a Wall using sturdy straps, a yoga block, and a door. 

What is the difference between Wall classes, trainings, and immersions? Wall classes are stand-alone classes, part of our regular calendar schedule. Trainings are multi-day, multi-session events with a more intellectual or conceptual focus: broad and deep in scope,  they explore the how and why of using the Wall across a wide range of topics. Immersions focus on one specific topic and spend less time on the theoretical and teaching aspects of using the Great Yoga Wall to concentrate on the feeling and effect of a set series of poses. Want even more detail? Read on!

We always recommend at least 6 months of asana experience for anyone attending a class, training or immersion.

SATURDAY MORNING GREAT WALL CLASSES
Our Saturday morning Great Wall Class is a great place to start if you're new to the Wall. Though Letitia mostly teaches this class, all of our teachers are trained on the Wall and nearly every in-studio class features a pose using it. Our Great Wall Classes can give you a feel for Letitia's teaching style as she focuses on a variety of topics from standing poses, neck and shoulder work, inversions, twists, and backbends, as well as Aadil Palkhivala's Spinal Rejuvenation Series. Working with the unique support of the Wall can lead to deeper awareness of both your body and the full range of asana poses as well as their intended benefits. Our weekly classes occasionally involve partner work, though we limit this since not all of our home participants have a partner ready to assist.

LEVEL ONE AND TWO GREAT YOGA WALL TRAININGS
Our three-day Level One and Two Trainings, both taught by Letitia, are for movement instructors, yoga and physical therapists, and practitioners who want to understand how to use this incredible prop system to support their students, clients, and themselves. These Trainings teach you how to use the Great Wall to decompress the spine, create space in the body, and regulate the nervous system, work therapeutically with clients, and increase the accessibility of poses for bodies of varying shapes, sizes, and abilities.
Trainings are knowledge-based, not experientially-oriented. Trainings are not meant to be opportunities to go deep in the physical effects of Wall work, because they contain a lot of information covered at a fast/quick pace. In fact, it could destabilize the musculoskeletal system to move fully through the sheer number of poses we cover in these three-day sessions. We do not hold poses for very long, so you might not immediately feel how the pose could affect you. However, you will learn how to set up, go into, and come out of each pose using the Great Yoga Wall and accessories so that you can integrate this information into your own practice and/or with your own students later.. All participants have 2 months access to the recordings and the option for a private consultation with Letitia to answer any questions, gain greater clarity, and revisit any of the poses in detail. 
Letitia offers Level One Training in spring and Level Two in autumn. However, students can purchase the most up-to-date/latest manual and recordings from the latest trainings any time.

GREAT YOGA WALL IMMERSIONS
If you are seeking an in-depth experience that focuses on a specific use of the Wall, our Immersions are likely the best fit. Great Wall Immersions are one-day sessions, taught by Letitia or by visiting Wall experts, varying in length from two to three hours to two three-hour sessions with a mid-day break. Immersions are experientially-oriented explorations of  a particular topic. In our 2023 Immersion, we focused on Spinal Health and on January 7, 2024, we'll be hosting Aadil Palkhivala on using the Wall for scoliosis. Immersions are ideal for someone who wants to feel different after the session rather than someone who wants to know more after the session (though you'll still learn plenty). We hold poses for longer in order to embrace their benefits and often incorporate partner work to manage the belts or provide another point of traction. Immersions can be suitable for all levels or geared towards intermediate or advanced practitioners, depending on the topic.

Want to be the first to know more about our Immersions and Trainings?
Join our newsletter to stay in the loop!
SIGN ME UP!