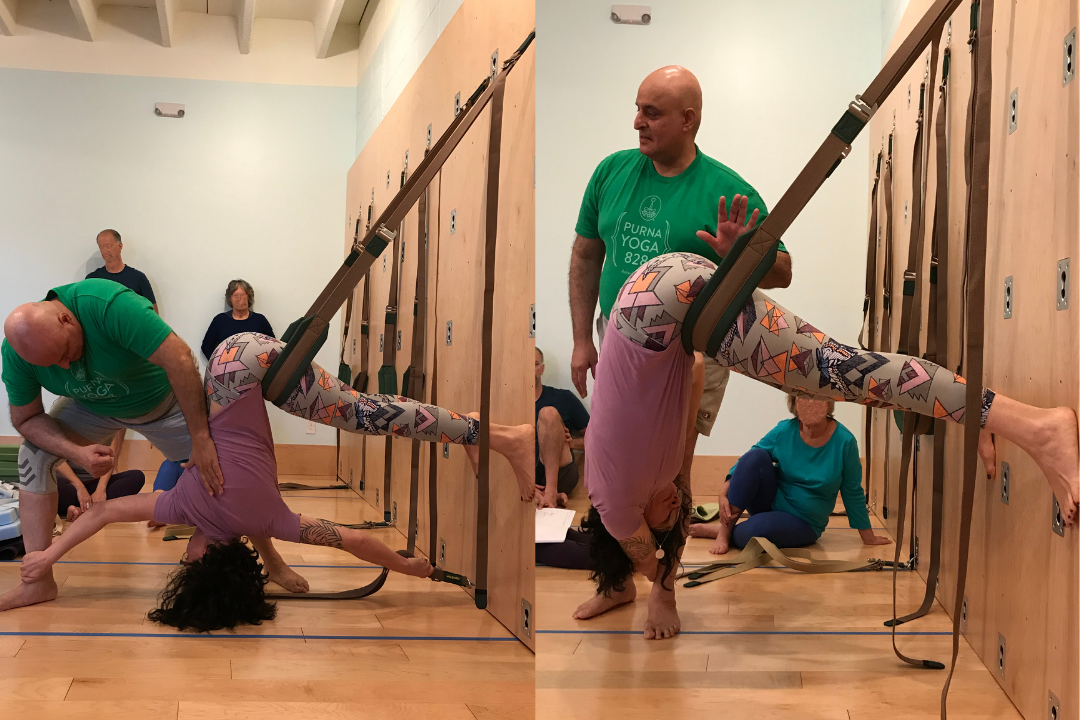 13 Nov 2023

Jan 7th: Yoga Therapy for Scoliosis using Wall Rope System with Aadil Palkhivala
Yoga Therapy for Scoliosis using Wall Rope System with Aadil Palkhivala

(live from Bellevue WA)
Join us in-person or online for this special workshop!
Sunday, Jan. 7th, 2024  •  12-2:30 pm EST / 9 am-11:30 am PST 
$135 ($121 for PY828 and ASC Members)  •  Access recording until Feb. 7th
In-person attendees capped at 8 • Live attendance not necessary for online students • 30 days access to recording • Recommended 6-months asana experience & access to a Yoga Wall System for online students
Join Aadil Palkhivala (either in-studio or from the comfort of your own home or studio) for an amazing yoga therapy workshop on using the Wall Rope System to address scoliosis. 
SIGN ME UP →
At Purna Yoga 828, we generally present two types of workshops: one that is meant to impart information that will continue to blossom in a student's practice and understanding over time, and one that is an experience in itself where you leave the workshop with a completely different feeling than when you came in. When yoga master and Purna Yoga co-founder, Aadil Palkhivala, is teaching, you get both. The in-studio spots in these workshops with Aadil always sell out quickly. Register below to save your spot now.
Practically all of us have a slight scoliosis. Day to day habits, (the way we walk, sit in a chair, favor one hand – samskaras), RSI (repetitive stress injury), subconscious mind issues, all create a lateral movement in our spines. These small curves aggrandise with age and become anything from uncomfortable to debilitating.
Join Aadil Palkhivala for an amazing yoga therapy workshop on using the Wall Rope System to address scoliosis. Aadil has successfully worked with hundreds of students with scoliosis, from mild to extremely severe (130 degrees!) for over 40 years. You will learn how to use the Spinal Rejuvenation Series to effectively manage scoliosis as well as other techniques on the Wall Rope System or Great Yoga Wall. You will not only discover the best poses to do but also understand the nuances of scoliosis, empowering you to create personalized sequences for a healthier spine. Join Aadil for an enriching journey towards a healthier spine.
Workshop Highlights:
Understanding Scoliosis:

The four main curves of the spine and the types of lateral and combined scoliosis associated with them will be explained. Aadil will then show you how to work towards relieving pain and discomfort, while slowly reducing the scoliosis curvature.

Identify Suitable Poses:

You will gain insights into which yoga poses are most beneficial for individuals with scoliosis and how to safely modify them for optimal alignment and comfort. You will also learn which poses to avoid. 

Psychology

: Understanding the psychology of scoliosis will help you identify deep root causes, because the subconscious mind plays a big role in all issues of the body.

Tailored Approach:

You will learn the best starting points and sequences for addressing the different types of scoliotic curves using the Wall Rope System or Great Yoga Wall and the Spinal Rejuvenation Series.
A recorded workshop with Aadil truly is a gift that keeps giving. I'm able to immerse myself in the experience, knowing that I can return to the recording and take notes. Aadil's wisdom and warmth are so nurturing; every workshop expands my practice in so many ways.
For this workshop, students must have access to a Wall Rope System or Great Yoga Wall. If you're joining us in person at PY828, we'll have everything you need. Students joining remotely should have their own home system or access to a studio system.
The following additional props are recommended. For at home participants, to get the most out of this experience, it would be helpful to have the following. We'll have all of this for students to use at the studio.
a yoga mat
two blocks
a belt
a blanket
a chair

In-person attendees are capped at 8. Masks are optional but welcomed in the studio. Live attendance is not necessary for online participants. All students will receive the class recording and have access to that recording until February 7th.  There will be a designated demo model for online participants to be able to view at all times.