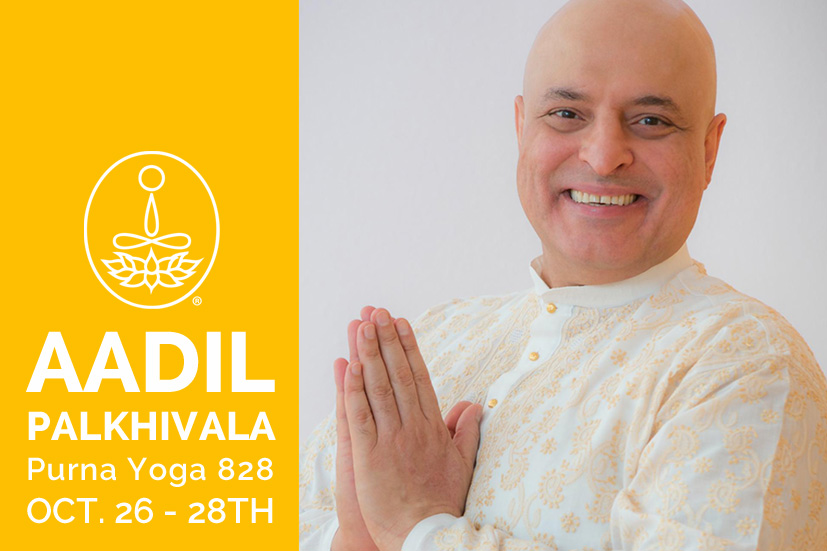 08 Jul 2018

Oct. 26-28th: Weekend Immersion with Aadil Palkhivala
Weekend Immersion with Aadil Palkhivala

October 26-28th, 2018  
Purna Yoga 828 • $475
SOLD OUT! Please email us to get on the waitlist or use the purchase link below to sign up for just the Friday night lecture session for $60. 
Join Aadil, "the teacher of teachers," for a weekend immersion covering the whole person: body, mind, and spirit. 
Learn how to care for your spine as well as how to navigate the current world crisis.
Practice balancing power and humility as well as the length of your inhalation and exhalation.
Stoke your digestive fire, bring more joy into your body and life, and care for your nervous system with restorative poses.
Spend three full days with Aadil for his first visit to Asheville since 2013!
FRIDAY, OCTOBER 26TH
All-day Intensive – Spinal Rejuvenation
10 am – 1 pm & 3 pm – 5:30 pm

In yoga, we believe that you are as youthful as your spine. As your spine ages, your entire body ages. In fact, BKS Iyengar used to say that you need to take care of your spine more than any other part of your body. This is also true in healing fields such as chiropractic where the focus is on aligning the spine. Practically all your organs are fed nervine energy from your brain through your spine. In Purna Yoga™ we do the practice to realign the spine as well as make it more flexible. A flexible spine lets the energy of the brain flow through it with ease.
Additionally, the energetic body is supported by the spine. As you may know, all the chakras are in your spine. When the spine is strong and supple it not only supports the physical body but allows the energy of the Spirit to enter the body more readily. In this workshop we will do standing poses, inversions, twists and backbends, all with a focus on rejuvenating and reenergizing the spine. This practice will be followed by the Anti-Aging series.
The Anti-Aging series in Purna Yoga™ was created by Aadil Palkhivala to help his own severe lower back problems, including disc injuries and bone spurs. Just like his famous Hip Series, it provides all possible movements to your spine while your spine is in a state of suspended traction. This frees up the tension in all the small and large postural muscles that surround your spine, while simultaneously reversing the ravages of gravity. It releases pressure on your vertebral discs, increases blood flow and allows your nerves to regenerate. This series reverses the aging process of your spine. When your spine is youthful all the muscles and organs in your body will function better. You will feel refreshed, energized, more flexible, and younger after doing this series. All Levels.
The Purna Yoga™ of Sri Aurobindo and the Current World Crisis – Lecture
6:30 pm – 8 pm

So far evolution has been a matter of time, chance and the survival of the fittest.  Sri Aurobindo explained that, today, it is a matter of choice.  In this powerful interactive lecture, learn how Purna Yoga helps us become active participants in this evolution of consciousness.
Bring a pad of paper and a pen with blue ink.
SATURDAY, OCTOBER 27TH

Power and Humility – Balancing Your Practice for Inner Peace
10 am – 1 pm

The sacrum and the pelvis are designed to be sources of power. Asana often cultivates only the masculine aspect of this power. Learn how the asana practice of Purna Yoga™ balances power with humility, the masculine with the feminine. Aadil will share how this cultivates the inner peace that allows your mind to be calm and your nervous system to be relaxed.
Learn how to balance the masculine and feminine in standing poses, Adho Mukha Shvānāsana and backbends. All Levels.
Detox and Recharge: Twists and Backbends in Purna Yoga
2:30 pm – 5:30 pm
Twists increase the gastric fire, and detoxify the digestive system, thereby improving digestion. Additionally, twists release the tiny inter-vertebral muscles along the spine, freeing it for backbends. When done correctly, backbends bring joy and strength, focus and power. Learn how to do beginning backbends safely, with alignment and strength, so that as you move deeper into the practice of backbends and recharge your spine, you can enjoy the benefits without injury. All Levels.
SUNDAY, OCTOBER 28TH
Pranayama: Preparation and Practice
10 am – 1 pm
Breath is the most fundamental connection to life's physical essence. The practice of pranayama is indispensable to a calm and peaceful state of mind as well as a clear and focused brain. Aadil will cover, in this one-of-a-kind workshop, an in-depth analysis of the physical preparations needed to safely and effectively begin the practice of pranayama. Then he will lead the class in the practice pranayama, with appropriate breaks and sequencing. This is an opportunity for those who are new to pranayama to understand the fundamentals of the practice. And if you have a basic pranayama practice it will help deepen your understanding of how to move towards more advanced pranayama practices. All Levels.
Healing the Nervous System
2:30 pm – 5:30 pm
All stress is held in the nervous system first. When the nervous system is saturated the stress flows into the muscles and organs of the body. Since most stress is perceived stress, controlling the mind is crucial to the release of stress. Learn yogic techniques for controlling the mind and therefore releasing the stress in your life. Restorative poses will be the main focus of this workshop. All Levels.
Limited enrollment for this special event. Sign up now and pay in full to save $15 or save your space with a $200 non-refundable deposit (balance of $275 due by September 15th). We expect the workshop to sell out quickly.

 
Cancellation policy: We rely on accurate attendance count to make important arrangements for our workshops.  For cancellations made more than 14 days prior to the workshop, the administrative fee is $20.00.  Cancellation requests made between 14 days prior to and the first workshop date will be charged 20% of the workshop fee.  No refunds for cancellations during the workshop or for no-shows.
AADIL PALKHIVALA
With degrees in law, physics and mathematics, Aadil is one of the world's top yoga teachers and, for over 35 years, has had the reputation as the "teacher of teachers," since the world's finest teachers study with him. His passion is to create health, wealth and happiness in the lives of his students who truly embrace Purna Yoga's teachings and lifestyle.
He began his studies with B.K.S. Iyengar at the age of 7, and was the youngest person to be awarded the Advanced Yoga Teacher's Certificate from Iyengar at the age of 22. He has been training yoga teachers in India, Asia, Europe and the United States since 1976. Aadil writes for Yoga Journal Magazine and been an "Asana Expert" for both the magazine and website. He is frequently a keynote speaker internationally.  Aadil is the author of three Teacher Training manuals and Fire of Love, the book that seeks to restore the essence of yoga.
Aadil is a Certified Shiatsu and Swedish Bodyworker and a Clinical Hypnotherapist and has extensively studied alternative health and Ayurveda. Aadil is the founder and director of the internationally-renowned Alive and Shine Center™ in Bellevue, Washington and Purna Yoga™ College, a 200-hour, 500-hour, 2,000-hour, and 5,000+ hour Teacher Training program.  For more information go to www.aadil.com.