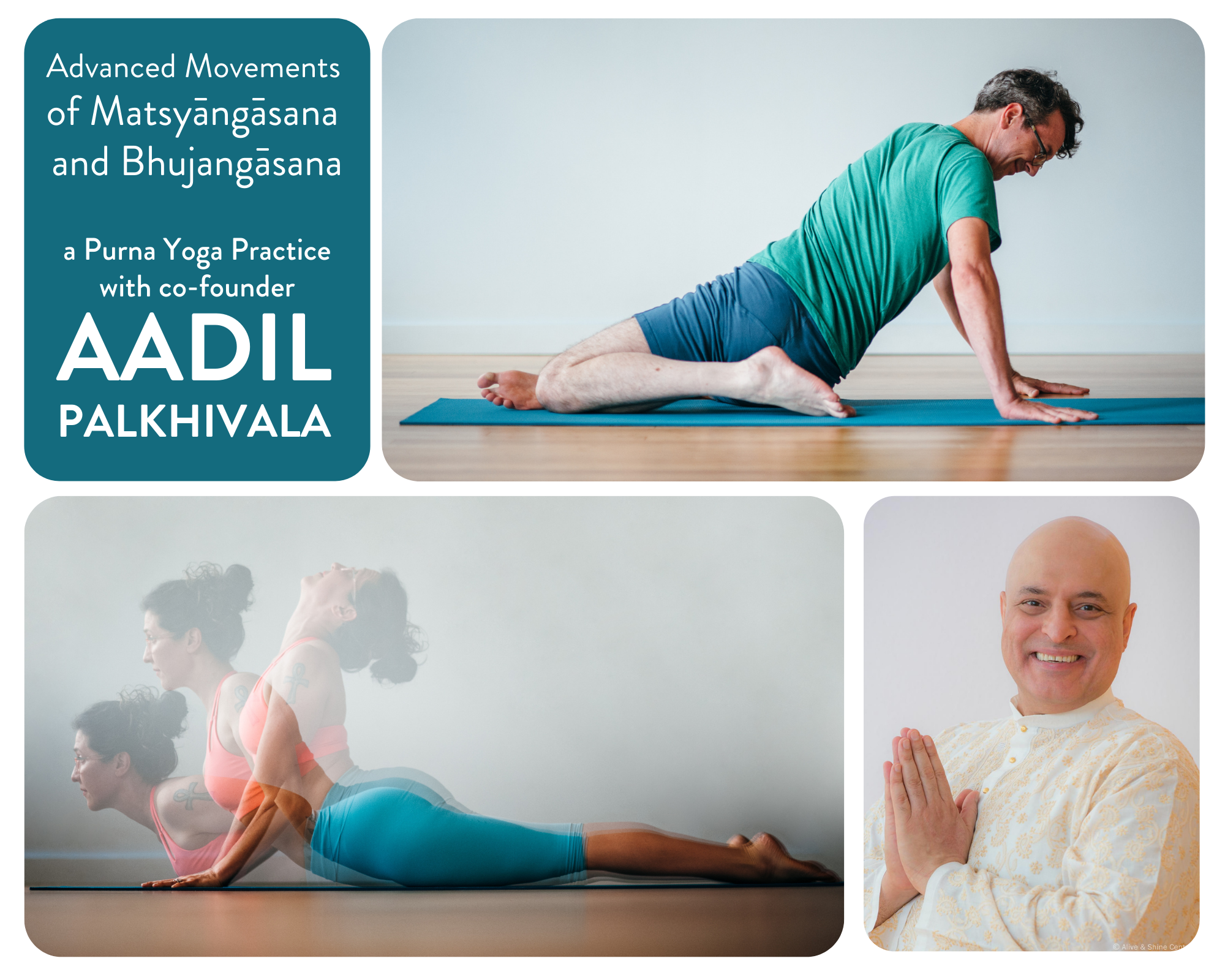 05 Mar 2022

Mar. 27th: Matsyangasana and Bhujangasana with Aadil Palkhivala
A Purna Yoga® Practice: Advanced Movements of Matsyangasana
and Bhujangasana with Aadil Palkhivala (live from Bellevue WA)

Recorded Hybrid workshop: Join us in-person or online!
Sunday, Mar. 27th, 2022  •  1-3:30 pm EST/10 am-12:30 pm PST
$90 ($81 for PY828 and ASC Members)  •  Access recording until April 10th
In-person attendees capped at 8 for social distancing • Live attendance not necessary for online students
Join Aadil for this experientially-oriented workshop as he guides you into the deeper versions of Matsyangasana (the ultimate open twist) and Bhujangasana (Cobra pose)
At Purna Yoga 828, we generally present two types of workshops: one that is meant to impart information that will continue to blossom in a student's practice and understanding over time, and one that is an experience in itself where you leave the workshop with a completely different feeling than when you came in. When yoga master and Purna Yoga co-founder, Aadil Palkhivala, is teaching, you get both. This workshop will lean towards the experientially-oriented workshop, but with Aadil's wealth of knowledge, you'll also learn even more about the two poses that are the focus of this workshop.
Join Aadil for this invigorating 2.5-hour practice as he guides you into the deeper movements of Matsyangasana and Bhujangasana. You will feel the magic of these two powerful poses taking your practice to the next level. Aadil will guide you beyond the basic stages of Matsyangasana into the advanced actions, to free tension held deep in your spine, neck, and jaw. Then he will lead you into variations of Bhujangasana that you can do at home without a partner, which will free your breath, ribcage and open your heart. Your spine will thank you for the measurable results you will feel from this juicy practice!
Aadil will be teaching this workshop from his home studio in Bellevue, Washington, but we're offering the opportunity for students to practice with him together in the studio as well. His feed will be projected on the wall for all students to see easily and we'll also have two computers in the room so that Aadil can see the in-studio students. Join us in the studio or from home, and let's practice these special poses together!
There's nothing like studying with someone who has over 50 years of experience practicing yoga. A workshop with Aadil always helps me learn – and feel – something new in my body, mind, and spirit, in a deep, transformational way.
The following props are recommended. For at home participants, to get the most out of this experience, it would be helpful to have the following. We'll have all of this for students to use at the studio.
a yoga mat
two blocks and/or two Three-Minute Eggs
a belt
a blanket
a yoga chair or a folding chair with a flat seat and open back
a bolster
For online participants, you'll get the most out of this workshop if Aadil can see your whole body from head to toe as well as be able to move in closely to view demos or work close to the camera.
In-person attendees are capped at 8 to allow adequate space for social distancing. Masks are required in the lobby, but will be optional once on your mat. Live attendance is not necessary for online participants. All students will receive the class recording and have access to that recording until April 10th.  There will be a designated demo model for online participants to be able to view at all times.
2.5 CE hours of Yoga Alliance CE credits available upon request.