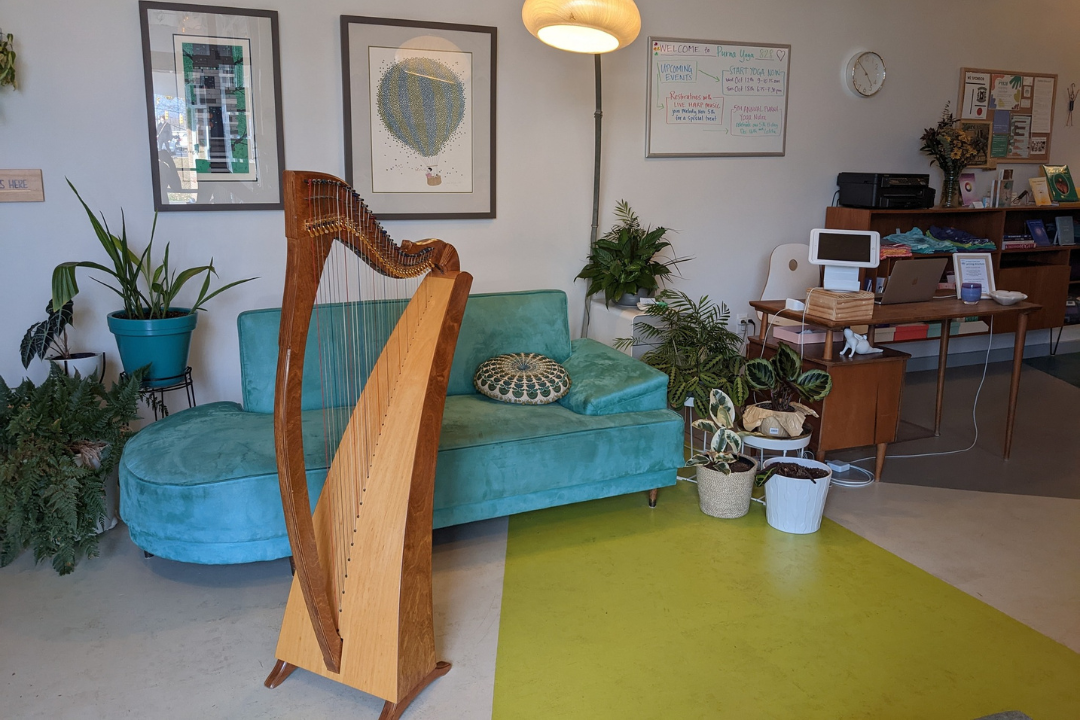 23 Jan 2023

Feb 12th: Restoratives with Live Harp Music
Restoratives with Live Harp Music with Melody
Join us IN-STUDIO for this specialty class
Sunday, February 12th, 2023  •  4-5:30 pm
$30 ($27 for PY828 Members)
In-person specialty class capped at 10 attendees
Allow the soothing sounds of the harp to deepen your restorative yoga experience in this in-studio workshop led by life-long musician and restorative yoga aficionado, Melody Cooper.  
Designed to still the busy mind and relax the body, restorative poses use a variety of props to allow the body to sink deeply into poses, thereby releasing physical tension and restoring calm and balance to the parasympathetic nervous system. And back by popular demand, we're adding music to the restorative experience! As we use props and breath to release our bodies and mind and imagination to release mental tension, the music of the harp adds another layer to soothe the emotions, our worries and fears that we all hold onto.
We love having Melody teach restorative classes for a number of reasons. First, her training as a professional singer and instrumentalist means her melodic, soothing voice is unparalleled at guiding you into these poses. Second, restorative poses are her bread and butter! As the only PY828 teacher who has a specialized certification in Yoga Nidra, or yogic sleep, Melody appreciates the way that restorative poses lets us access Nidra's deep inner calm through gentle movements that keep muscles loose and limber.
As a life long musician, Melody knows the interplay between music and movement, emotions, and the peace that comes from release and surrender.  She has frequently used her harp to add to her guided meditations at Spiritual Centers and now is bringing this experience into her Restorative Yoga teaching.  The name of her harp is Dreamweaver and Melody says holding this instrument in her embrace to pluck its strings seems to reverberate with the heartstrings of all who listen.  Come join us for this unique experience.
I think of restorative yoga as the younger sister to the deeper work of Yoga Nidra. It is the deep joy that comes from releasing the body, mind, and emotions to touch base with our inner light that I love to share with others.
And since this is an in-person class, we've got all the props you need to rest deeply and comfortably.
In-person attendees are capped at 10 to allow adequate space for social distancing. Masks are encouraged but optional.