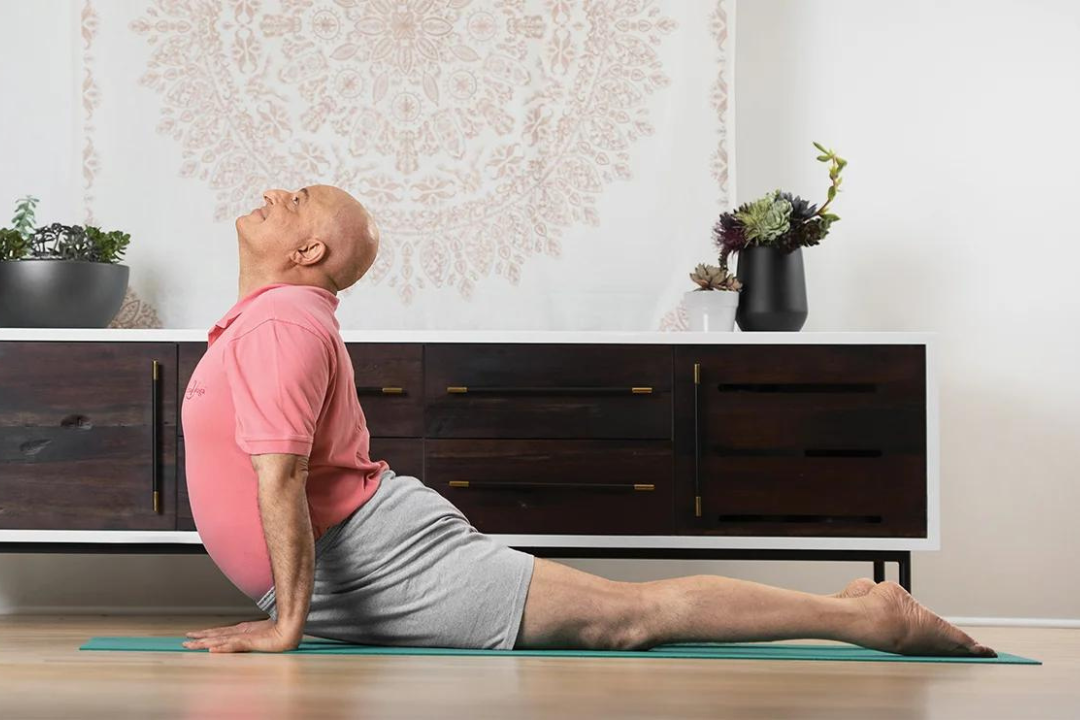 01 Mar 2023

Mar 19th: Backbends for the Upper Back with Aadil
Backbends for the Upper Back with Aadil Palkhivala
(live from Bellevue WA)
Join us in-person or online for this special workshop!
Sunday, Mar. 19th, 2023  •  2-4:30 pm EDT / 11 am-1:30 pm PDT 
$90 ($81 for PY828 and ASC Members)  •  Access recording until April 20th
This is an all-levels workshop open to EVERYONE!
In-person attendees capped at 14 • Live attendance not necessary for online students • 30 days access to recording
Join Aadil Palkhivala (either in-studio or from the comfort of home) to learn how to open the upper back to prepare for deeper backbends, improve your posture, and expand your lung capacity.
At Purna Yoga 828, we generally present two types of workshops: one that is meant to impart information that will continue to blossom in a student's practice and understanding over time, and one that is an experience in itself where you leave the workshop with a completely different feeling than when you came in. When yoga master and Purna Yoga co-founder, Aadil Palkhivala, is teaching, you get both. The in-studio spots in these workshops with Aadil always sell out quickly. Register below to save your spot now.
In last year's workshops with Aadil, he focused on the hips. This year, we're turning our attention to the upper back, to improving posture, and backbends. Aadil will be joining us for two workshops in 2023. This first one is all-levels – open to anyone – and will focus on upper back backbends to improve posture, expand breath capacity, and cultivate feelings of joy. The second workshop, on October 1st, will be a more intermediate workshop working towards Urdhva Danurasana (Full Backbend).
Here's Aadil has to say about this workshop: "We are as old as our spine is young. Moving the spine forward in backbends can help us stay young physically, mentally and emotionally. In this workshop you will learn how to open your upper back to prepare your body for deeper backbends. Opening the chest and shoulders will allow you to breathe more deeply, open your heart chakra and revitalize the heart itself so that you feel more alive."
Aadil will be teaching this workshop from his home studio in Bellevue, Washington, but we're offering the opportunity for students to practice with him together in the studio as well. His feed will be projected on the wall for all students to see easily and we'll also have computers in the room so that Aadil can see the in-studio students. Join us in the studio or from home, and let's practice these amazing series together!
A recorded workshop with Aadil truly is a gift that keeps giving. I'm able to immerse myself in the experience, knowing that I can return to the recording and take notes. Aadil's wisdom and warmth are so nurturing; every workshop expands my practice in so many ways.
The following props are recommended. For at home participants, to get the most out of this experience, it would be helpful to have the following. We'll have all of this for students to use at the studio.
a yoga mat
two blocks
a belt
a blanket
a chair

In-person attendees are capped at 14. Masks are optional but encouraged in the studio. Live attendance is not necessary for online participants. All students will receive the class recording and have access to that recording until April 20th.  There will be a designated demo model for online participants to be able to view at all times.