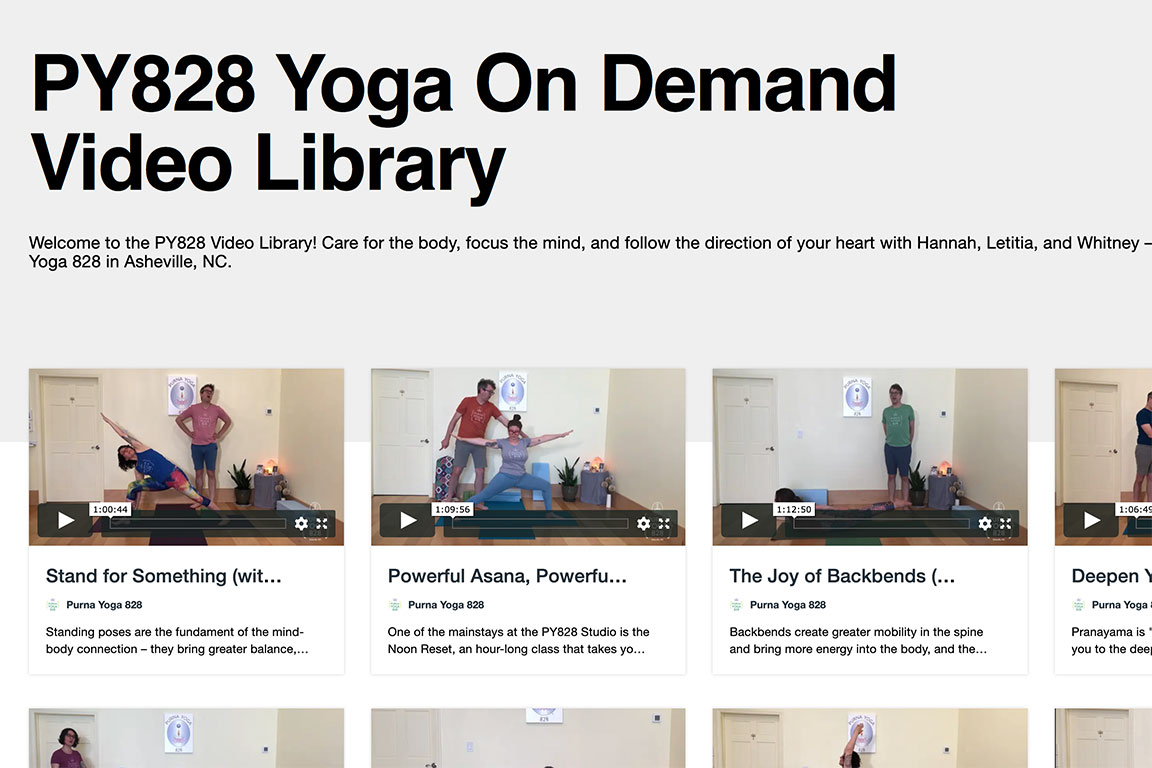 20 Aug 2020

Announcing the PY828 On-demand Video Library

We've always had plans to be more present with our teaching online, but our brick-and-mortar studio in Asheville, NC took precedence. And then 2020 happened, and our entire business model had to shift. Now, teaching online is absolutely a priority, and we're so pleased to add an on-demand video library to our livestream classes, as well as our in-person classes.

We launched the library with 22 videos featuring the core teaching team at PY828: Letitia Walker, Whitney Shroyer, and Hannah Berlin. Now the library has 32 classes ranging from 5 to 90 minutes on a variety of topics and levels as well as the basic concepts and series of Purna Yoga. New videos are added periodically. Currently, we're focusing on adding student-favorite zoom classes as well as specifically created for the library videos that focus on whole-body practices for short time frames.

The on-demand video library will be another way to practice Purna Yoga at our studio, along with our livestream offerings and in-person classes.

Now there are three ways of practicing at PY828:
attend in-person or livestream classes with a 10-class pass ($145) or at the drop-in rate ($5, $10, or $15

for online classes or pay a single rate of $15 for in-studio

)
sign up for a monthly membership with access to the library as well as a set amount of livestream

or in-person

classes (4 for $52, 8 for $98, or unlimited for $198)
Monthly memberships are recurring. Need to stop your membership for any reason? Just give us 15 days notice from your re-up date. Start up again whenever you wish!
Get a taste of the video library with these videos of Hannah teaching the Morning Series and Letitia showing you 4 Daily Shoulder Poses.
PY828 Video Library members can still drop into any live class for more personalized tips, tricks, and refinement on the practice you've been honing with a video on-demand practice. Join an online or in-person class either through donation or a 10-class pass to get real-time feedback from our teaching staff.
See you on the virtual mat!