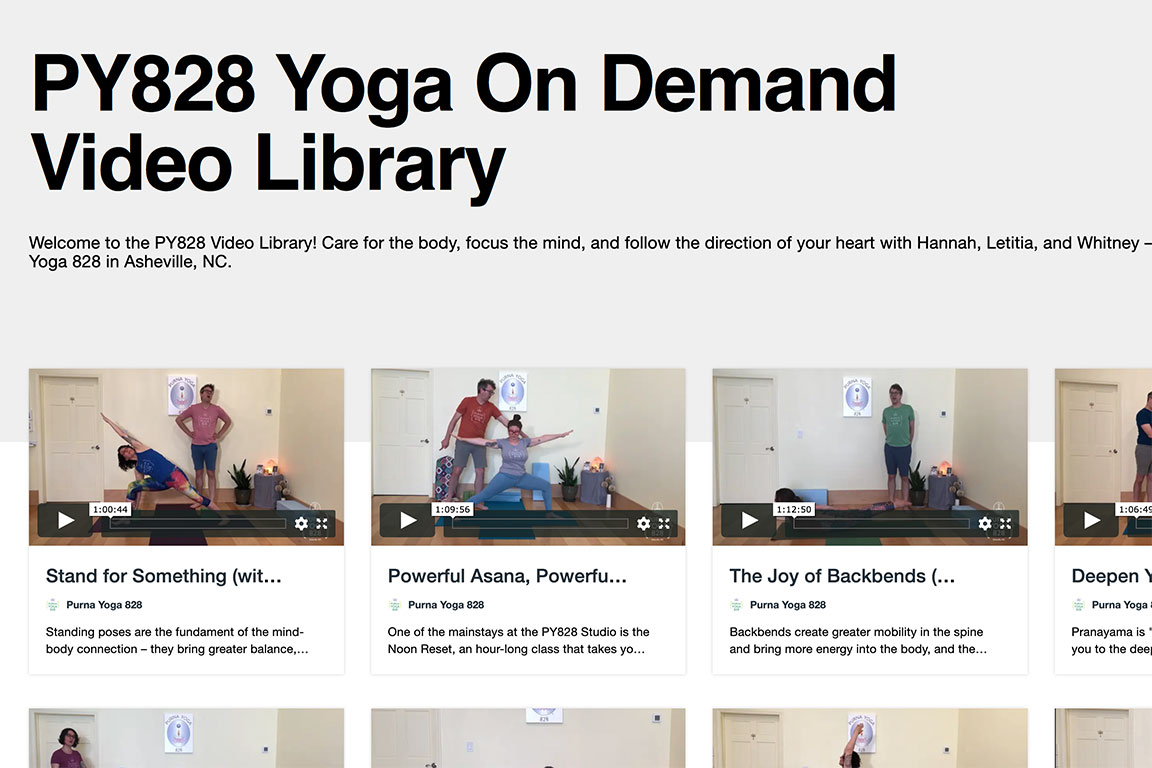 20 Aug

Announcing the PY828 On-demand Video Library

We've always had plans to be more present with our teaching online, but our brick-and-mortar studio in Asheville, NC took precedence. And then 2020 happened, and our entire business model had to shift. Now, online is our priority forum, and we're so pleased to add an on-demand video library to our livestream classes.

We're launching the library with 22 videos featuring the core teaching team at PY828: Letitia Walker, Whitney Shroyer, and Hannah Berlin. Our initial offering features 15 classes ranging from 60 to 75 minutes on a variety of topics and levels as well as 7 mini-class videos of 5 to 30 minutes in length addressing the basic concepts and series of Purna Yoga. New videos will be added each month, including a selection of hour-long classes with other Purna Yoga teachers, including Aadil Palkhivala, one of the co-founders of Purna Yoga.

The on-demand video library will be another way to practice Purna Yoga at our studio, along with our livestream offerings.

Now there are three ways of practicing at PY828:
sign up for a hybrid monthly membership with access to the library as well as a set amount of livestream classes (4 for $52, 8 for $98, or unlimited for $198)
For this first month (until September 15th), the new memberships will come with a 30-day expiration and won't be recurring. We want to give you a month to see how your practice grows and blossoms with this new system. After the first month, re-up your package, and it will become a recurring membership. Need to stop your membership for any reason? Just give us 15 days notice from your re-up date. Start up again whenever you wish!
Get a taste of the video library with these videos of Hannah teaching the Morning Series and Letitia showing you 4 Daily Shoulder Poses.
PY828 Video Library members can still drop into livestream classes for more personalized tips, tricks, and refinement on the practice you've been honing with a video on-demand practice. Join a livestream class either through donation or a 10-class pass to get real-time feedback from our teaching staff.
See you on the virtual mat!