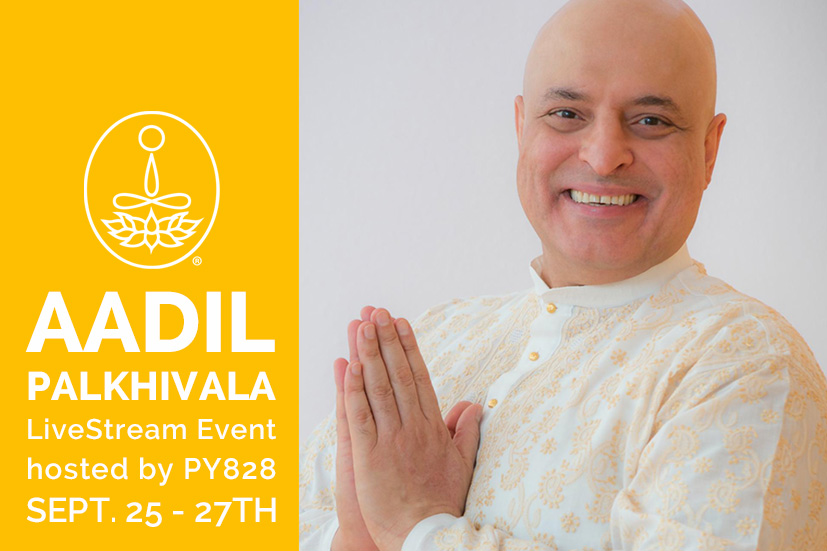 09 Sep 2020

Sept. 25-27th: Livestream Weekend with Aadil Palkhivala
Livestream Weekend with Aadil Palkhivala

September 25-27th, 2020 
Join us from the comfort of your home – keep the recordings for 7 days
$243 for all five sessions (PY828 Member Rate: $218!)
or pick your sessions a la carte • more info on pricing below
Learn how the health of the vagus nerve is the secret to being calm and relaxed
Practice building a stronger brain/body connection so asana can be neurological as well as physical
Discover how to control your breath to benefit your nervous system
Explore yogic techniques for normalizing blood pressure
FRIDAY, SEPTEMBER 25TH
Unlock The Secret To Calmness – The Key To Your Nervous System
Lecture: 7 – 8 pm EDT
Price: $30 (PY828 Member Rate: $27)

There is a part of your nervous system that is seldom talked about, yet is the key to health and calmness.  This is a cranial nerve called the vagus nerve that travels to every organ in your body and controls essential functions.  It regulates your ability to rest, relax, rejuvenate and repair.  Keeping this part of your parasympathetic system healthy keeps you calm and relaxed.  Learn about the vagus nerve and its power in healing your body.
SATURDAY, SEPTEMBER 26TH

Come Alive, Build Strength & Control – Part ONE
Asana Practice: 10 am – 12 pm EDT
Price: $60 (PY828 Member Rate: $54)
You will practice asana with the focus on connecting with your feet and hands through standing poses, twists and backbends.  Because we have so many nerve endings that go to our hands and feet, when we awaken and build awareness in these nerves, we come alive in our body.  You will feel a new level of strength and control pervade your body.  Learn how to access a new level of awareness in the asana practice so that the effect is not merely physical but neurological.
Come Alive, Build Strength & Control – Part TWO
Asana Practice: 2:30 pm – 4:30 pm EDT
Price: $60 (PY828 Member Rate: $54)
Aadil will cover gentle releasing poses, restorative poses and energizing poses to help you feel more alive, grounded and strong in your body and in your life.  You will tap into the thousands of nerve endings in your hands and feet and move with precision, building new neurological pathways that will re-wire your nervous system.  You will come alive and feel rejuvenated in a brand new way!
SUNDAY, SEPTEMBER 27TH

Develop The Power of Ujjayi Breath
Asana/Pranayama Practice: 10 am – 12 pm EDT
Price: $60 (PY828 Member Rate: $54)
Athletes perform better when they are able to control their breathing patterns.  Doctors know that altering your breath can affect your heart-rate and mental state.  In this workshop, you will learn how to use your breath in the Classical Surya Namaskar series so that the effects of this magical sequence are multiplied many-fold. When you learn to control the breath during the movement you will be able to change your outlook, your thoughts, and the state of your nervous system.
Normalizing High Blood Pressure
Therapeutic Asana Practice: 1:30 pm – 3:30 pm EDT
Price: $60 (PY828 Member Rate: $54)
In Purna Yoga® there are two types of High Blood Pressure, one pent-up (covert) and the other externally obvious (overt).  These have to be treated differently.  You will learn asana techniques, nutrition principles, pranayama and philosophy to help deal with and reverse both causes of hypertension.
Our second time hosting in Aadil will be just as special as the first time in 2018! If you haven't had a chance to join Aadil for one of his livestream workshops, consider this the perfect opportunity to experience for yourself just how deep his online trainings can be. We've been consistently impressed with the way online learning with Aadil feels so much like an in-person experience. This format gives you the opportunity for a "front-row seat" with a master teacher without leaving the comfort of home. Keep the recordings for 7 days to deepen your knowledge beyond the livestream experience.
Register below for the full weekend or sign up for individual sessions through our online calendar.
If you're a PY828 Member,

 call Purna Yoga 828

to sign up at the special member rate.
AADIL PALKHIVALA
With degrees in law, physics and mathematics, Aadil is one of the world's top yoga teachers and, for over 35 years, has had the reputation as the "teacher of teachers," since the world's finest teachers study with him. His passion is to create health, wealth and happiness in the lives of his students who truly embrace Purna Yoga's teachings and lifestyle.
He began his studies with B.K.S. Iyengar at the age of 7, and was the youngest person to be awarded the Advanced Yoga Teacher's Certificate from Iyengar at the age of 22. He has been training yoga teachers in India, Asia, Europe and the United States since 1976. Aadil writes for Yoga Journal Magazine and been an "Asana Expert" for both the magazine and website. He is frequently a keynote speaker internationally.  Aadil is the author of three Teacher Training manuals and Fire of Love, the book that seeks to restore the essence of yoga.
Aadil is a Certified Shiatsu and Swedish Bodyworker and a Clinical Hypnotherapist and has extensively studied alternative health and Ayurveda. Aadil is the founder and director of the internationally-renowned Alive and Shine Center™ in Bellevue, Washington and Purna Yoga™ College, a 200-hour, 500-hour, 2,000-hour, and 5,000+ hour Teacher Training program.  For more information go to www.aadil.com.