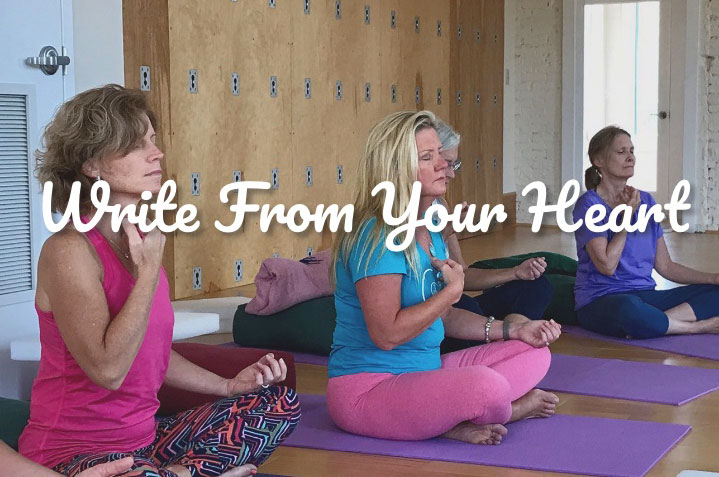 11 Nov

Nov 23rd: Write From Your Heart
Write From Your Heart

Join Leslie Waugh on Nov. 23rd, 2019  •  1–4 pm
Purna Yoga 828 • $60
Leslie is back at PY828 for "Part Two" of this one-of-a-kind workshop!
Explore the healing powers of writing as a spiritual practice:
no experience necessary either in yoga or writing
be guided through simple and fun writing exercises to tap into your heart's wisdom
simply bring an open mind, along with a notebook and pen
In her Write From Your Heart workshops, Leslie Waugh weaves together Purna Yoga asana and Heartfull™ Meditation with expressive writing. The workshops are designed for all levels of writers and yoga practitioners. The gentle and accessible asana help you open and relax your body. The meditation snacks as created by Savitri, the co-founder of Purna Yoga, help you quiet and focus your mind and go into the energy of your heart chakra, which is love. The structured writing exercises are a fun way to explore your creativity, even if you don't think of yourself as a writer.
As the year winds down, take some time to reflect, renew, and write from your heart. With gentle Purna Yoga asana and Heartfull Meditation techniques, you'll be guided to open your body, mind, and spirit. Writing exercises will be tailored to take you deeper into your heart, and into your stories – with love, clarity, equanimity, and tools for true transformation.
As part of a spiritual practice, writing can be a powerful form of svadhyaya, or self-study. With the unique tools of Purna Yoga, it can foster profound healing to help you live your best life and fulfill your dharma. It can help you identify, illuminate and begin to transform stuck stories and patterns, or samskaras, with equanimity. Writing from your heart is also a great way to cultivate empathy and compassion — as you learn how to lovingly listen to yourself, you learn how to listen to and be a witness for others' stories. Moreover, research has shown that expressive writing can boost physical and mental health.
Purna Yoga 828 is so pleased to bring Leslie Waugh as a visiting Certified Purna Yoga instructor.
Leslie Waugh (E-RYT 200, RYT 500, CPYI 2,000) has been teaching yoga since 2011 and leading Write From Your Heart workshops since January 2018. She has had a three-decade career in publishing and journalism and has been a copy editor for The Washington Post for 12 years. Her poems have appeared in North Carolina-based magazines and journals. She grew up in Candler, N.C., and lives in Clayton, N.C., with her husband. She teaches at Purna Yoga East and blogs at Leslie-waugh.com.
Here's what folks are saying about this workshop:
"This was a beautiful workshop. Combining writing with meditation and asana was a fun experience. It helped release blocks to writing I didn't know I had, both physically and emotionally. I left the workshop feeling cared for by Leslie, mentally clear and able to express myself more creatively in words." ~ Jessica Pribula, Independent Fine Arts Professional