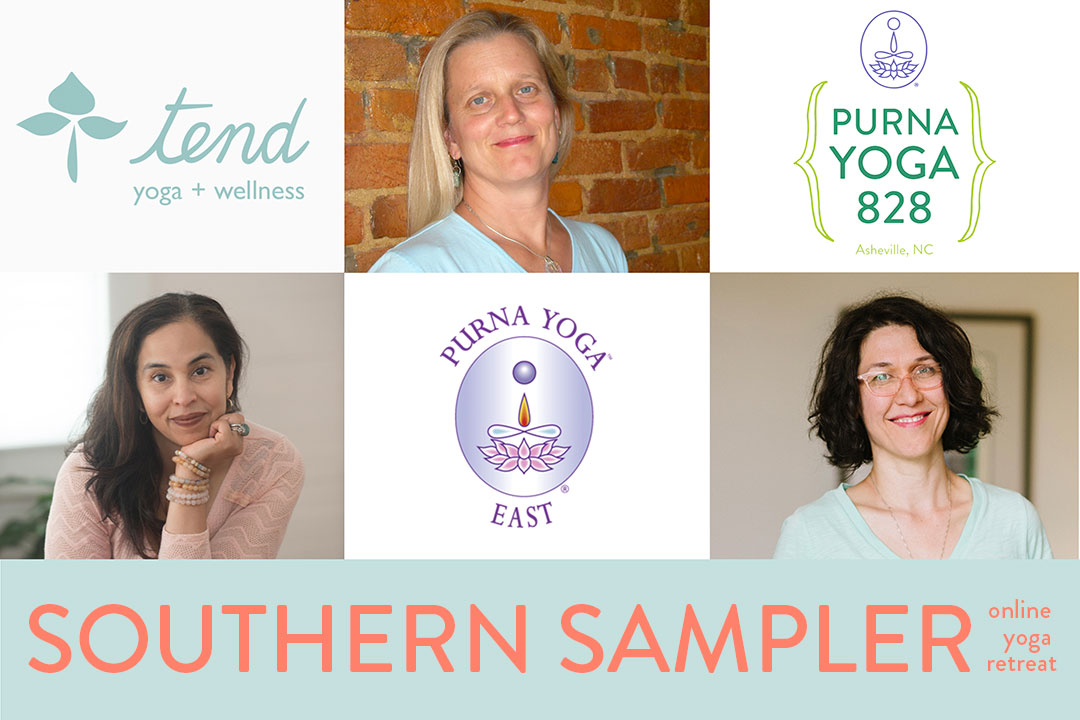 30 Apr 2020

May 8th: Southern Sampler Online Yoga Retreat
Southern Sampler Online Yoga Retreat

Friday, May 8th • 7:30 am – 9:30 pm
Purna Yoga East • Tend Yoga + Wellness • Purna Yoga 828
$90 • Early bird rate: $68 until May 4th
A yoga retreat to repeat. Take at your own pace. Practice self-care. Boost your immune. Do something new. Have some fun! Join six teachers from three different Southeastern studios for a variety of offerings sure to soothe, nourish, and support!
Join us for a day-long, in-home, self-care retreat with the support of a caring community interested in helping you live each and every day connecting with spirit, caring for the body, with gratitude for life. Learn about Purna Yoga from teachers in three studios in the Southeast offering online classes. Connect with us and sample a variety of unique, nourishing, and supportive wellness experiences through a virtual road trip to our homes and studios!
Rise and Shine with Catharine and Bob from Purna Yoga East as they share healthy home morning rituals, Heartfull Meditation, and then join them for a 10 am "Purna Yoga Moves "class. Journey on to Purna Yoga 828 in Asheville for a "Noon Reset" restorative class with Letitia and Whitney, and an inspiring afternoon nature walk. Spend some kitchen time in Atlanta with Narin learning about the powerful benefits of a cilantro-based green drink. Then, head back to Clayton for a series of myofascial massage techniques with Catharine, a massage therapist since 2001. Wind down your day with Narin and Anneliese at Tend Yoga and Wellness in Atlanta with a gentle/restorative evening class. Come back to center in Asheville for Heartfull Meditation with Whitney before bedtime. Cozy up at home and prepare for a peaceful night of sleep after a day of immune-boosting, nurturing, and healing activities.
Join us live for the whole day of events or participate at your own pace. You will have access to the event recordings for two weeks, so retake classes or create your own ongoing retreat experience. You will also receive supportive materials in a retreat packet. The welcome packet will include tips for setting up zoom and getting a practice space ready. This retreat is open to all, including beginners to yoga or to online learning.
All participants will also receive a coupon for a complimentary zoom class at each of the three studios in the month of May! We look forward to supporting you as you continue to build a home practice while connecting with others online.
To sign up: Purchase tickets on eventbrite. You will receive a welcome packet by May 6 along with a schedule and zoom links for each class.
Purchasing individual classes and workshop sessions included in the Southern Sampler Yoga Retreat would cost well over $150. Repeated viewings of each recording deepens your personal practice, adding greater value for your investment and retreat experience.
Retreat cost: $90
Purchase by May 4th and receive our early bird rate of $68. This includes the full Southern Sampler Yoga Retreat experience with bonus nature walk, cilantro drink demonstration, and retreat packet recipes. Additionally, you'll receive a coupon for three zoom classes (one at each participating studio), good for the month of May.
Eventbrite fees are not included and will be added to the final cost.